Alright, alright.  I know it's been over 2 weeks since we returned home from our Thailand travels and I am only  just now getting the time to post photos and write about our trip.  I have two valid excuses.  One– my computer hardrive crashed at the end of our trip, completely squashing my plan (and only reason of bringing my computer with in the first place) to edit our photos from the trip during our 20+ hr flight home.  Luckily, I had backed up all of my professional photos and business files prior to leaving, so I didnt lose anything of complete importance.  However, we transferred a chunk of our gopro photos and videos to my computer earlier in the trip in order to make more room on the memory cards, so we did lose all of that.   I am so lucky that we didn't transfer anything else over and that we didn't lose more.  It could have been sooo much worse. Phew!   Long story short, I spent the first week getting my computer back up and running, importing my eleventy-million travel photos and catching up on sleep.  Two– I had some pretty stinking cute clients lined-up the week we got back, so my priority remained shooting and editing and tending to the business.  Oh, and did I mention sleeping?
Can I also throw out there the "jet lag" excuse?  Holy WOW was it worse coming home than we thought it was going to be.  We anticipated being tired throughout the day, but we had no idea we would be so nauseous and hungry and unhungry and YUCK.  My vertigo came back in full force, but I guess I'm not surprised considering the amount of flights we were on in 3 weeks.  Oh, what I would have done for someone to take me off of the never-ending "tilta-whirl" I was stuck on.  We are slowly but surely getting back to normal. :)
Have I officially intimidated you all from traveling ever again?  Whoops!  Let me bring the mood back up by expressing how great of a trip we had.  It was truly a trip of a lifetime.  Let me explain why we chose Thailand for our 2015 trip, because I have been asked it a lot.  A LOT!   Traveling is very important to me, and I have always believed that I should prioritize it over other luxuries in life.  I love the quote, "travel is the only thing you can buy that makes you richer".  I have been slowly succeeding at infusing this same belief into my husband's brain. ;)  I always knew that before I had kids, I wanted to "knock out" some of the far bucket list trips off my list.  You know, the far places like Thailand, Australia, Bali, South Africa, etc. that almost require 2-3 weeks+ of travel time and that would be really hard to do with kiddos at home.  After limiting it down to Thailand and South Africa, we chose Thailand because it was far easier to stay within our budget there.  Thailand is one of the cheapest and most beautiful places to travel in the world….. more on the cheap part later..  :)
I'm featuring the first half of our trip on this blog post and will cover the second portion next week.  We started our Trip in Bangkok for two reasons.  Most flights force you to go through Bangkok regardless and we wanted to see a giant, Asian metropolis.  We were only there for a brief 3 days, but it seemed to be plenty and it was the perfect place to begin our travels in Thailand.
DISCLAIMER:  Our travel photos were taken with my professional Canon SLR, a GoPro Hero and both of our iPhone 5s.  Due to the conditions of some of the places we went, I was not able to carry my "good" camera with me everywhere, so to all of you pro photogs out there,  pay no attention to blurred or badly lit photos.  :)
---
BANGKOK:
3 nights, 2 days
Hotel- Radisson Suites Bangkok Sukhumvit
We absolutely loved this area.  It was referred to me by a friend of a friend because of it's easy accessibility to the skytrain and it's fun night life and usually un-touristy nature.  Would absolutely recommend.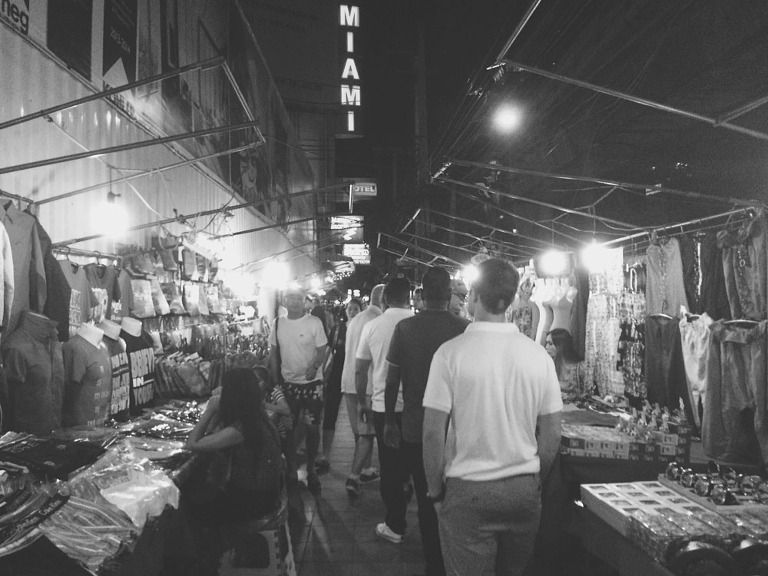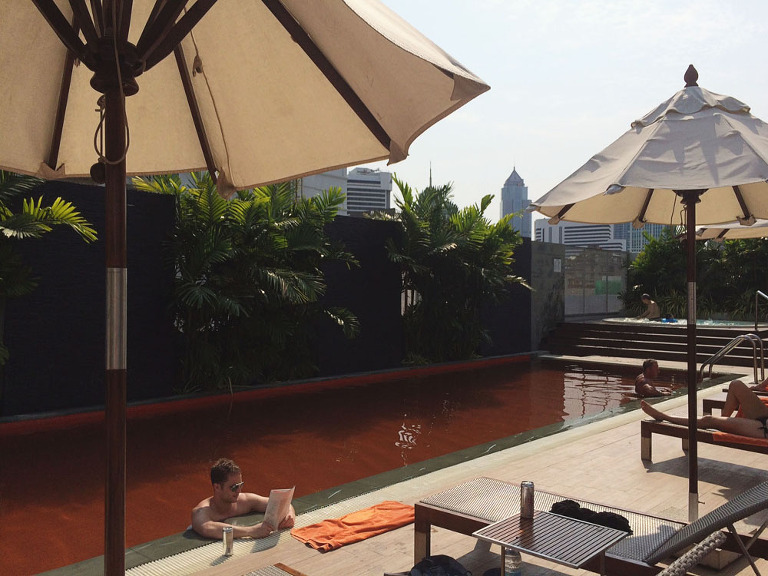 ( The pool tiles are red…not the water.. :)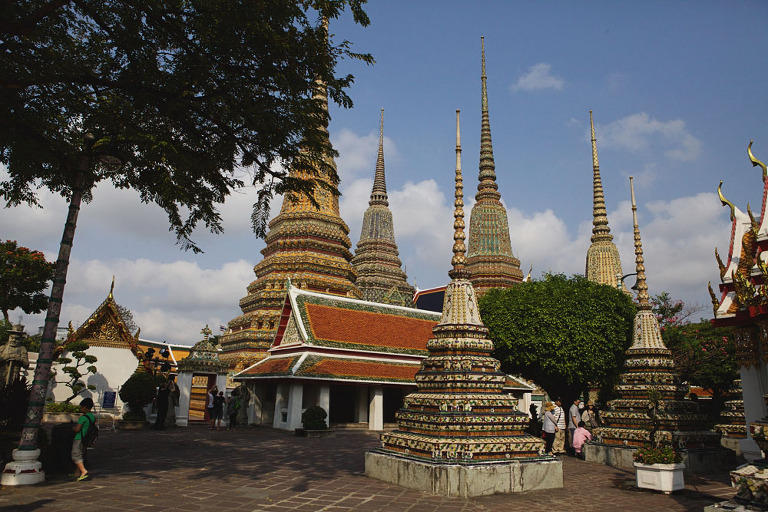 Wat Pho- Temple of the Reclining Buddha.   It is so hard to describe the size of this statue.  It's massive.  I can't say it was the highlight of our trip, but worth a stop, especially because it is adjacent to the Grand Palace.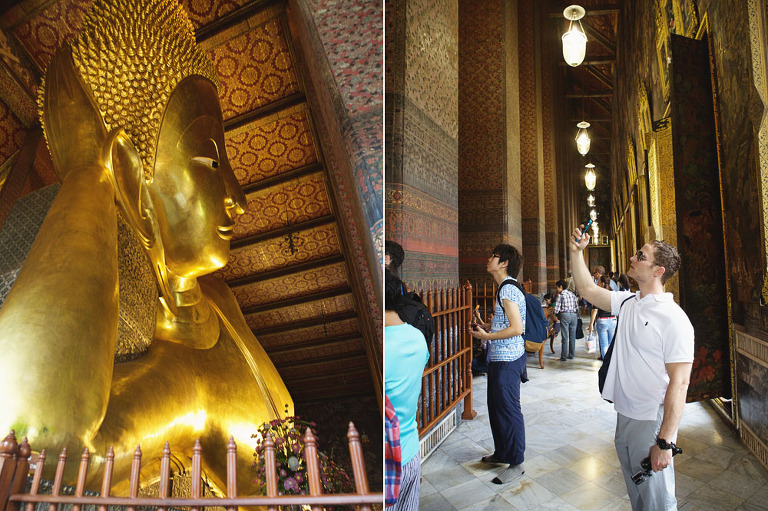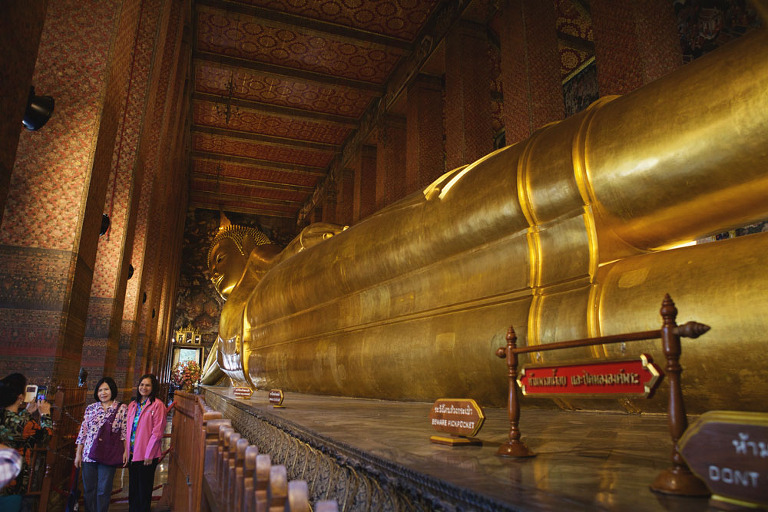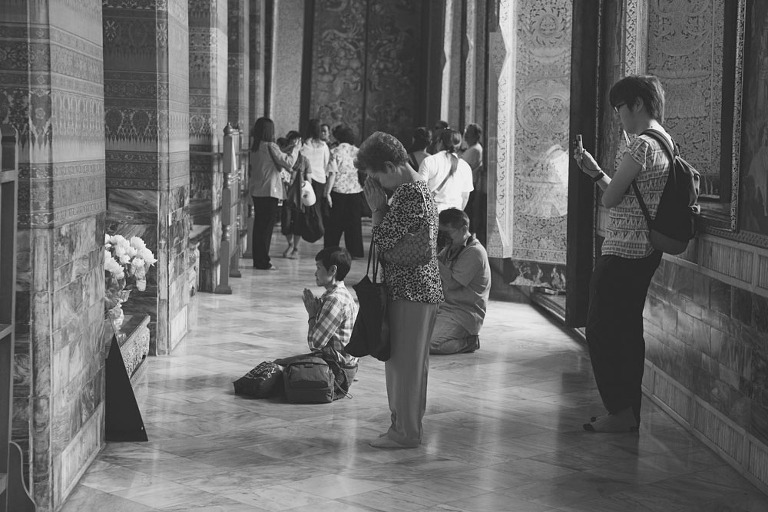 The Grand Palace-  This is one of, if not THE most popular tourist spots in Bangkok.  It is a large complex of buildings made up of temples, houses, courtyards, gardens, palaces and offices.  It also houses the Emerald Buddha, which is highly revered and considered the protector of all of Thailand.   The structures are unbelievably ornate and beautiful, but unfortunately, the massive crowds of people and 100+ degree heat took away from the beauty of this place.
TIPS-
1)Go early between 8:30-10 am.  By 10 am, it is unbearably crowded and you will wait in line to not only buy your ticket, but to enter.
2)There is also a dress code, so research prior to entering.
3)  Eat before or after you go.  There is nowhere inside the Palace fortress to buy food and the surrounding areas outside of it are too crowded with tourists to find anywhere of decent Thai standards.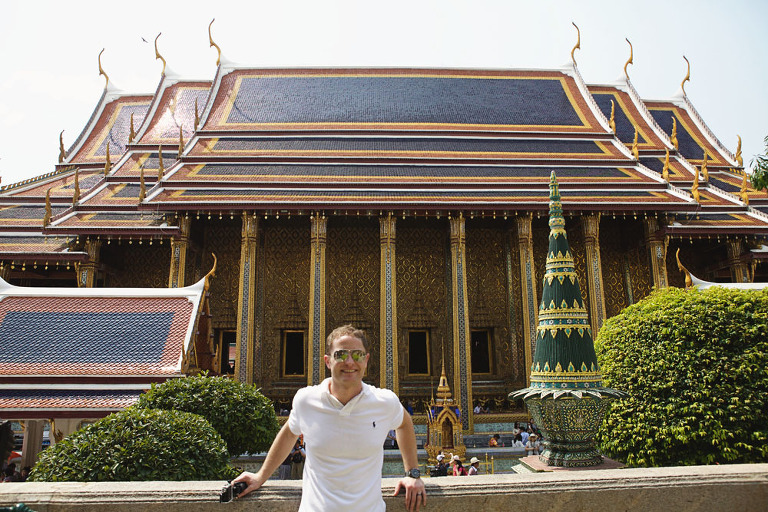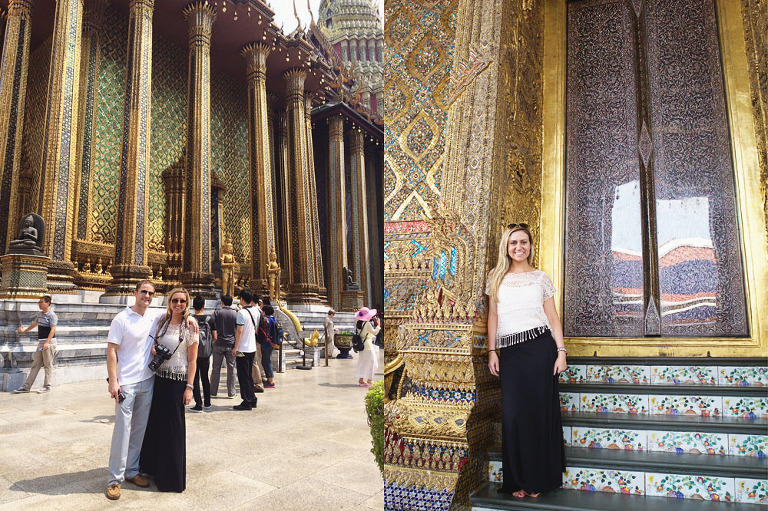 I'm pretty sure they thought he was a celebrity…..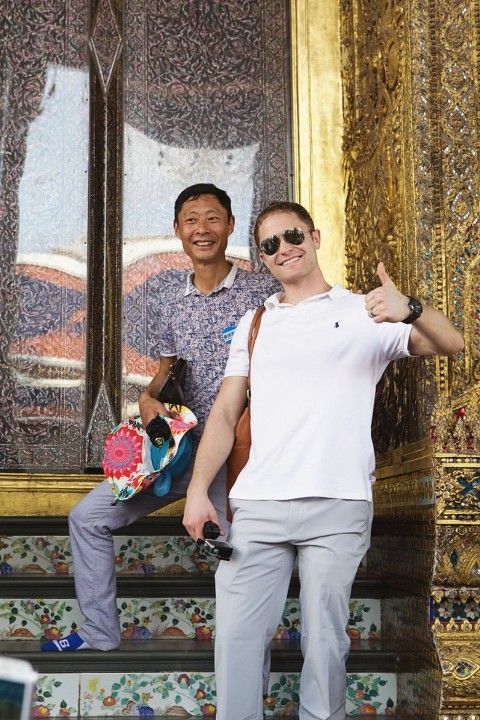 The palace where the king and queen used to live.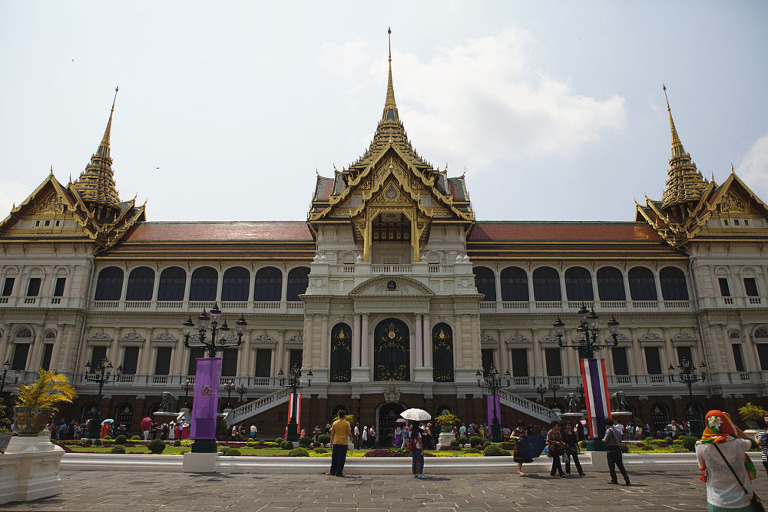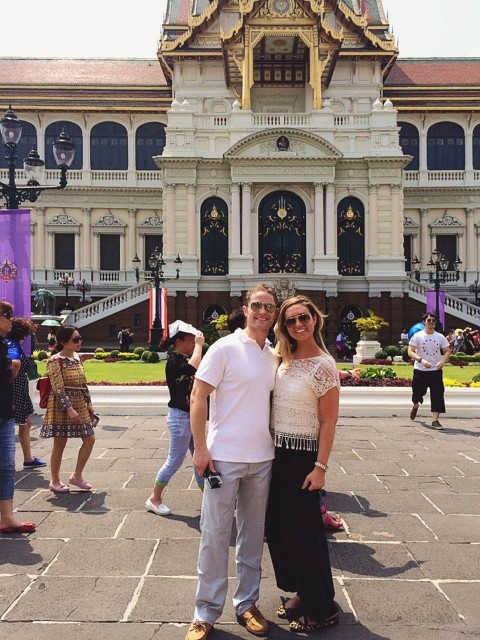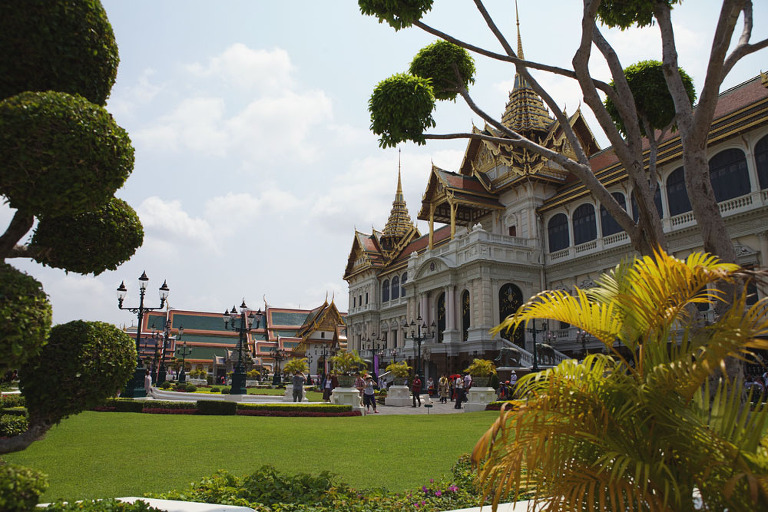 Skybar at the Lebua Hotel is a must do in my opinion.  (Thanks for the referral, Viv!)  It is an amazing outdoor bar on the 64th floor of the swanky, Lebua Hotel.  It is also where they filmed The Hangover Part II and where you can get sweeping views of the city.   Unfortunately, we were unaware of such a strict dresscode, so they wouldn't let Chris up -even with nice dress shorts on. We had planned to meet our college friend, Tom and his girlfriend Carrie up there( who were also in Thailand at the same time as us) for a drink, so I went up anyways to enjoy the view and catch some photos.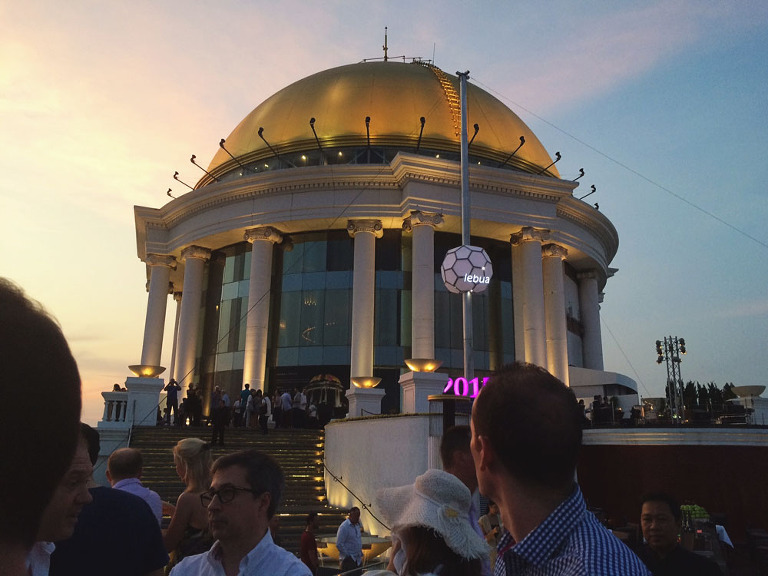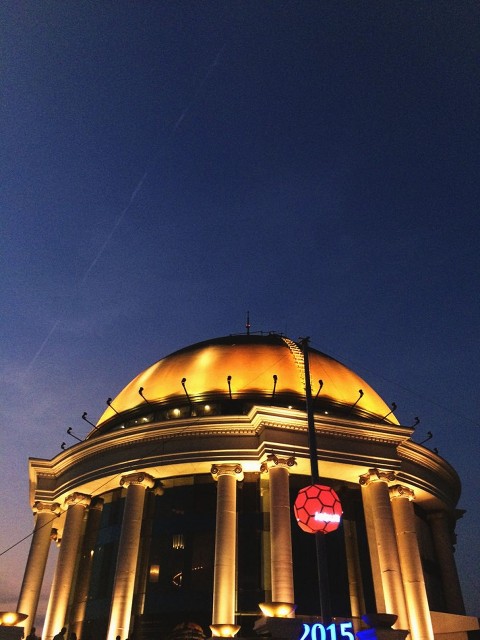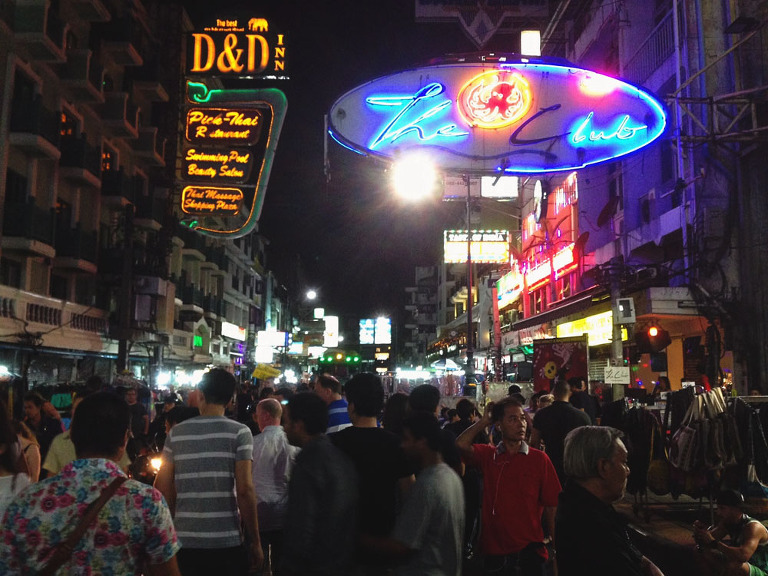 According to Tom, one can't experience Thailand without a "bucket".  So, "bucket" we did on the famous Khao San Road.  Popular for backpacking young tourists, imagine spring break at night on steroids, and then add cockroaches, street markets, and dueling techno music.  Thanks for letting me share your "bucket" my friend. :)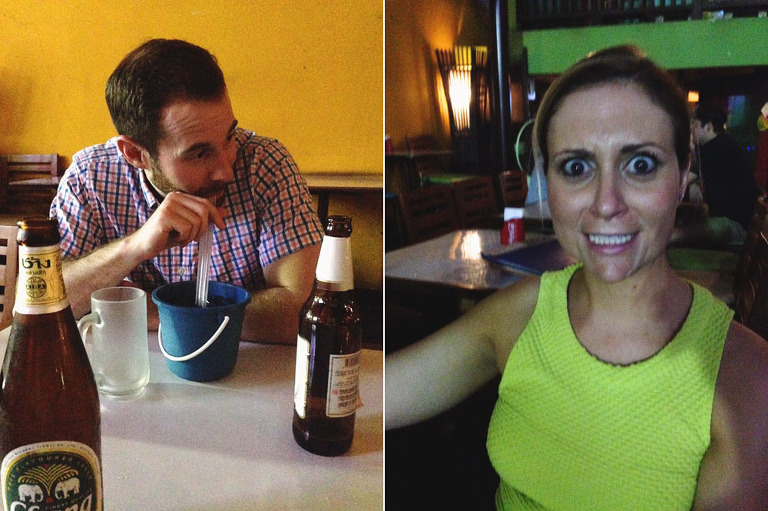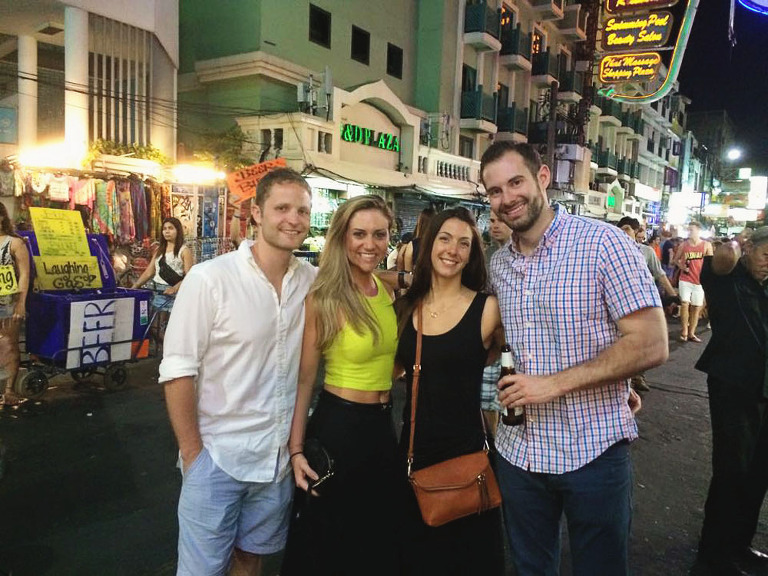 Thai Massages:   Get massages. Every Day. Twice a Day.   They are often only 300 baht ( approx $9.00) for an hour massage and are magical…well, except for the first one.  Our first massage was a traditional Thai Massage, which we thought was simply a regular massage.  Instead, we had to put on these traditional garments ( I can't stop laughing a Chris's outfit) and were in pain for the entire 60 minutes.  We felt good after we left, but I would not recommend this type of massage for anyone wanting a relaxing experience.   This was Chris and me after the Thai Massage experience.  We were only smiling because we were excited to be alive after many "neck snap" close calls.  :)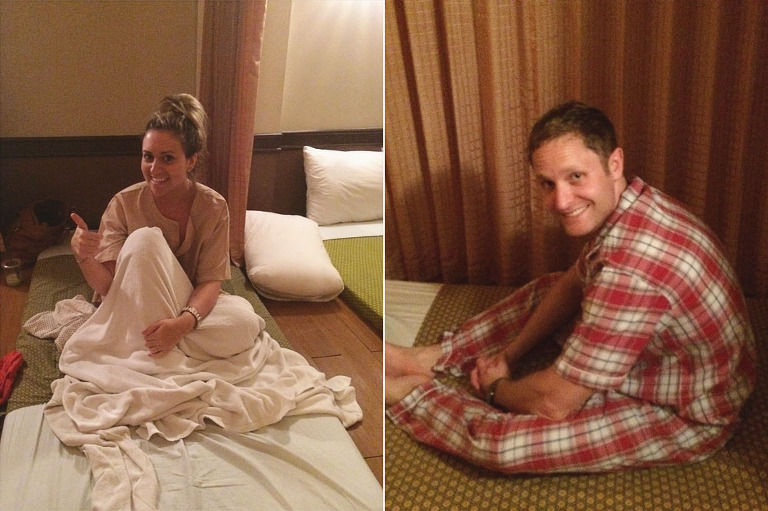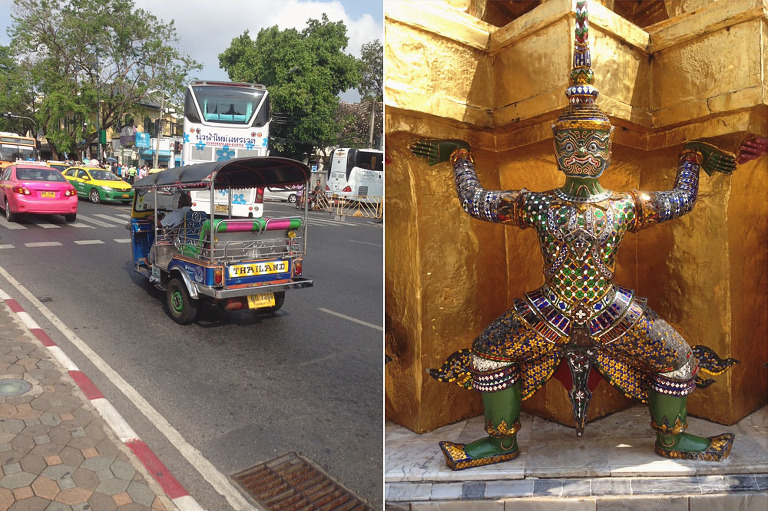 ---
Quick flight up to Chiang Mai, followed by a 1.5 hour drive and we arrived at the TREEHOUSE RESORT!  Yup, we stayed in a treehouse.  And if you're planning a trip to Thailand anytime soon, you would be a fool to not stop here for at least a night.  It far exceeded our expectations.  It was cool at night, the food was delicious and we met some great couples!
http://www.chiangmaitreehouse.com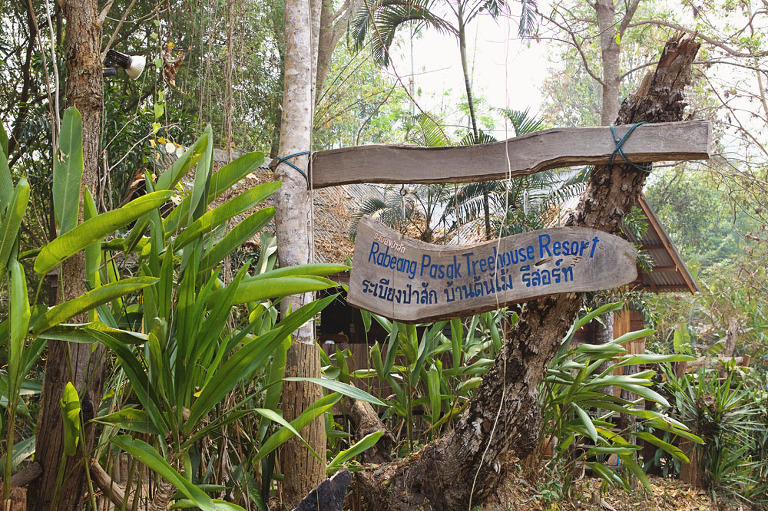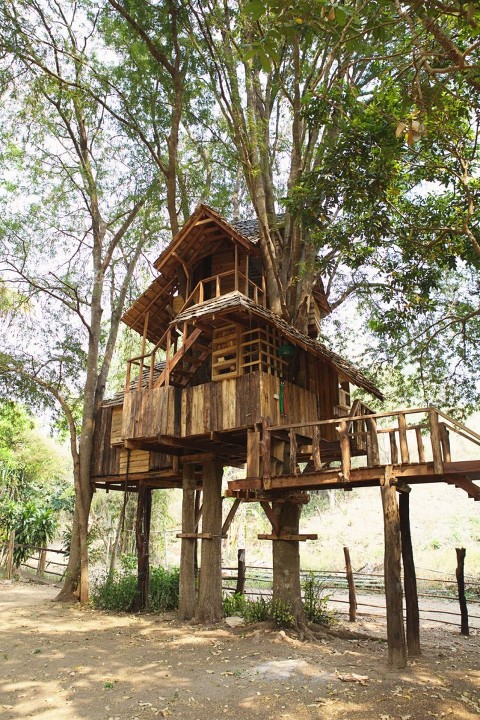 The left is the first floor of the treehouse and the right photo is the upstairs bedroom, which was fully enclosed with screens and a door.  The bathroom was on the main floor and had hot water, a nice toilet and an outdoor shower. The entire treehouse had electricity.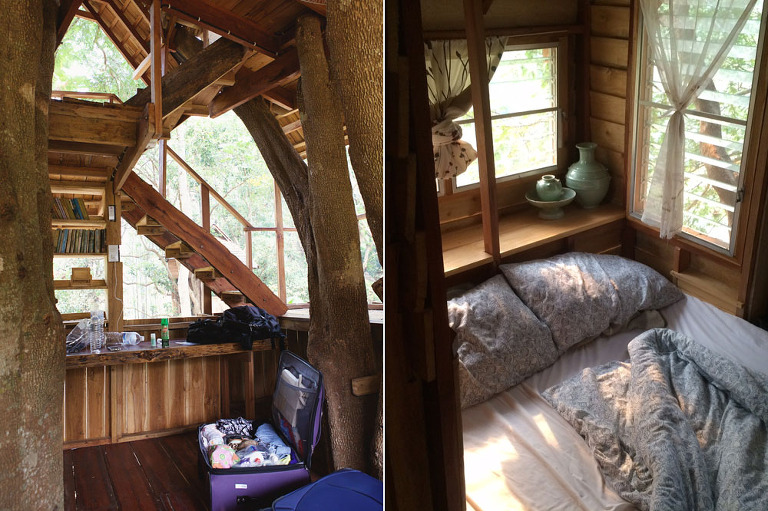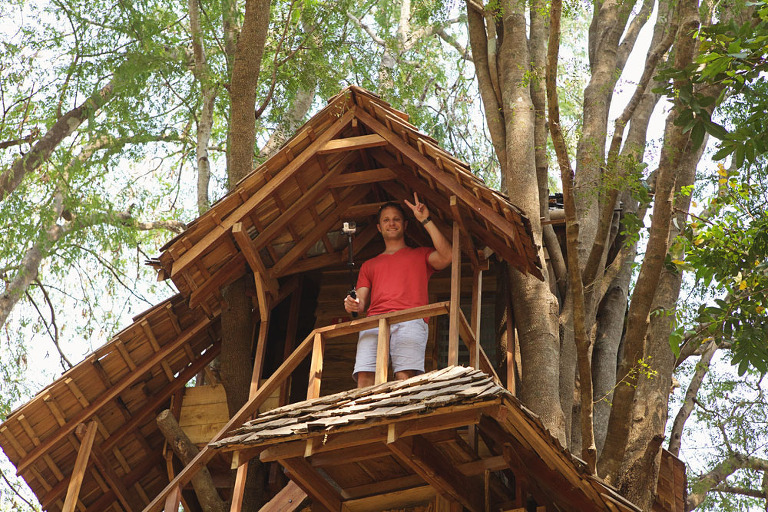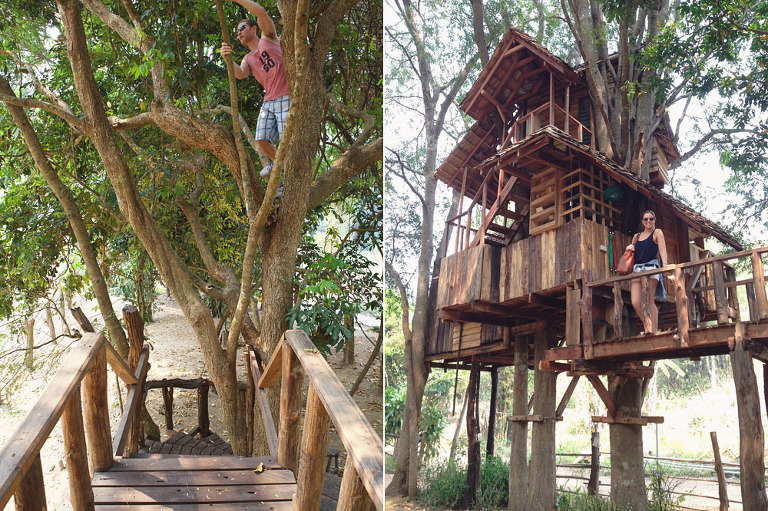 They have a selection of old, crappy and unsteady bikes to choose from to explore the area.  I chose old and Chris chose crappy, but at least they had wheels!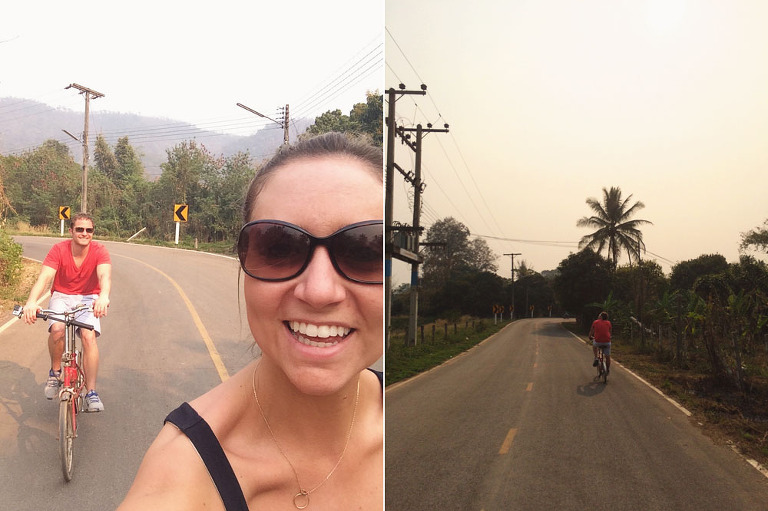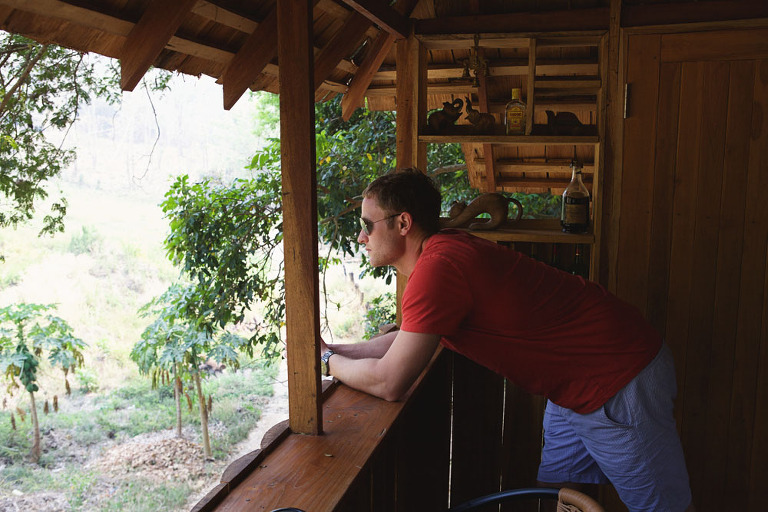 Here is the beginning of my love for patterned, baggy Thai pants.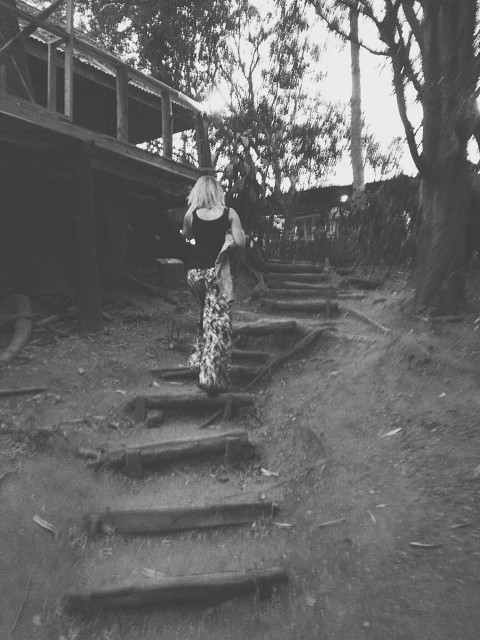 This was their dining area.   We never knew what they were going to put in front of us, but it was all delicious!   This is also where we met some great people and stayed out drinking until the wee hours.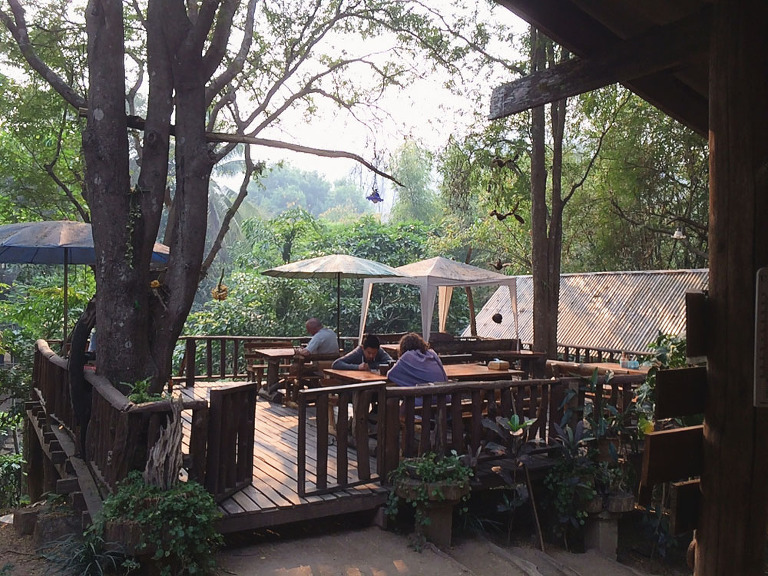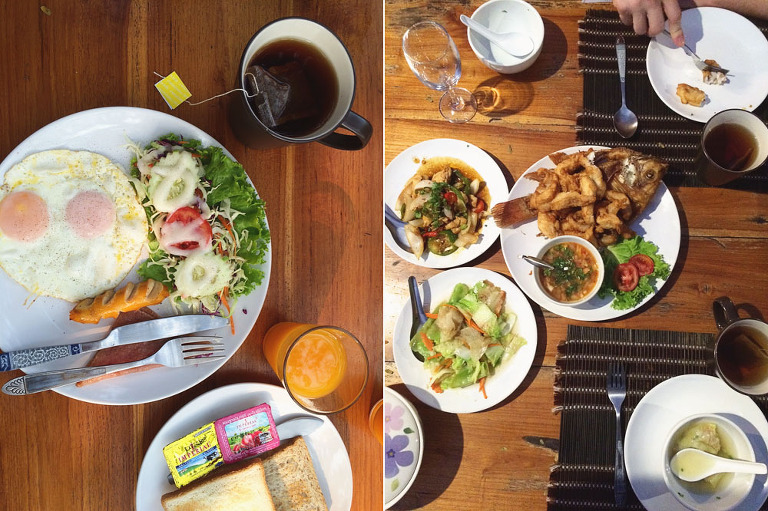 Singing Happy Birthday to both Lee, the owner, and our Australian Friend!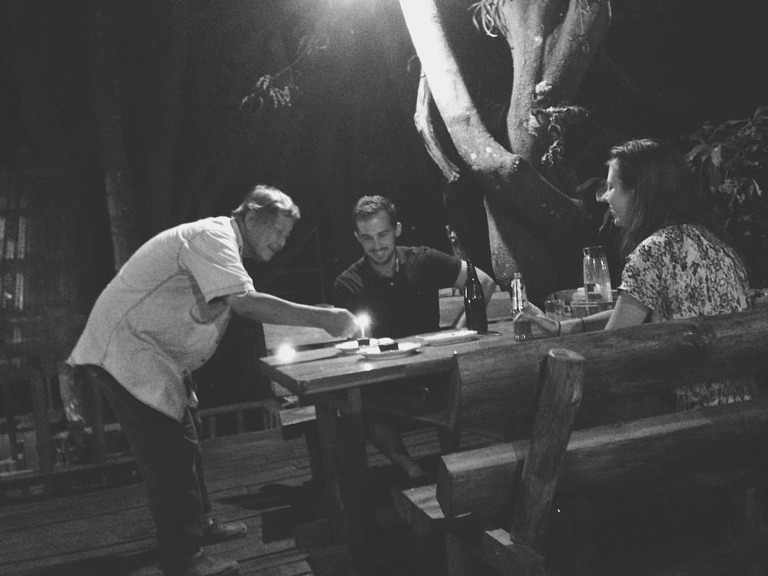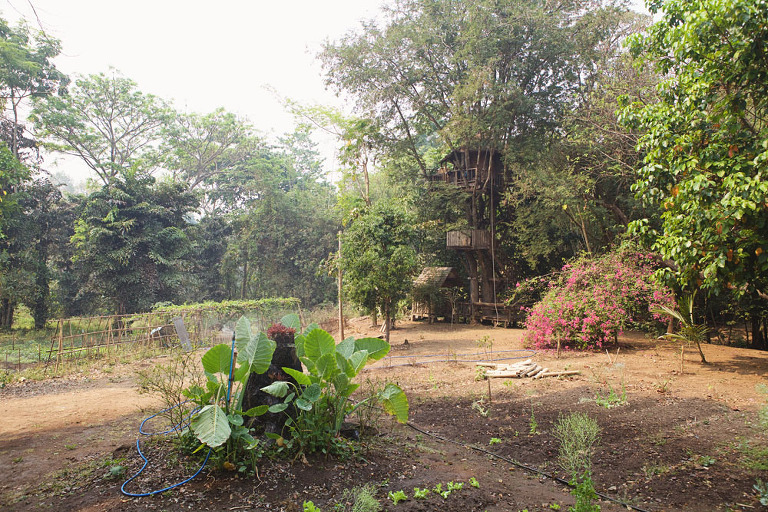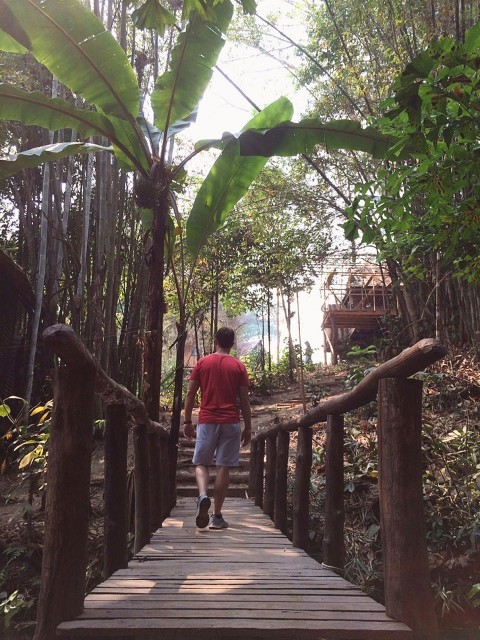 A few of the other treehouses at the resort.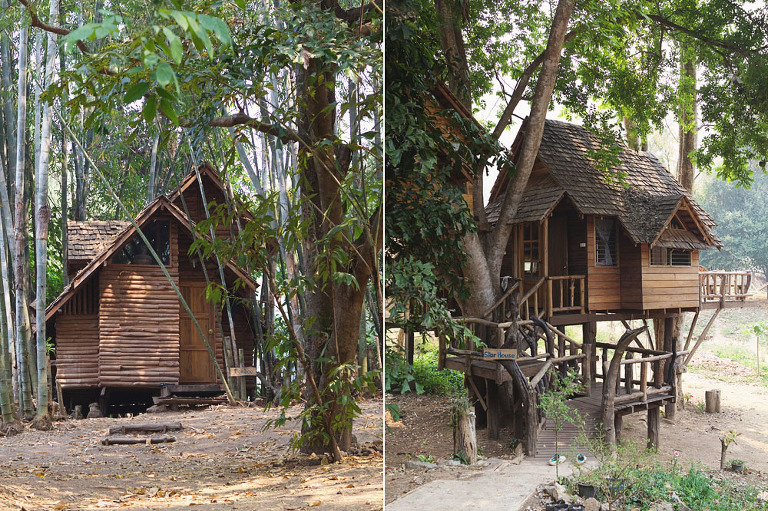 Lee calculating our bill at the end of the trip.  Lee is the owner and architect who designed each treehouse.  
On our way back to Chiang Mai, we had our driver take us to Buatong Waterfall, or otherwise known as Sticky Falls, per the referral from our friends Jean and Travis Smith ( our wedding photographers).  It is another must see/do in the area.    The waterfalls get their name from a mineral deposit on the rocks that provide an incredibly grippy surface for bare feet and hands.   Because there is little to no algae on the rocks, they are not slippery at all and you can completely walk up or down them on your own.  We felt like Spiderman!!!!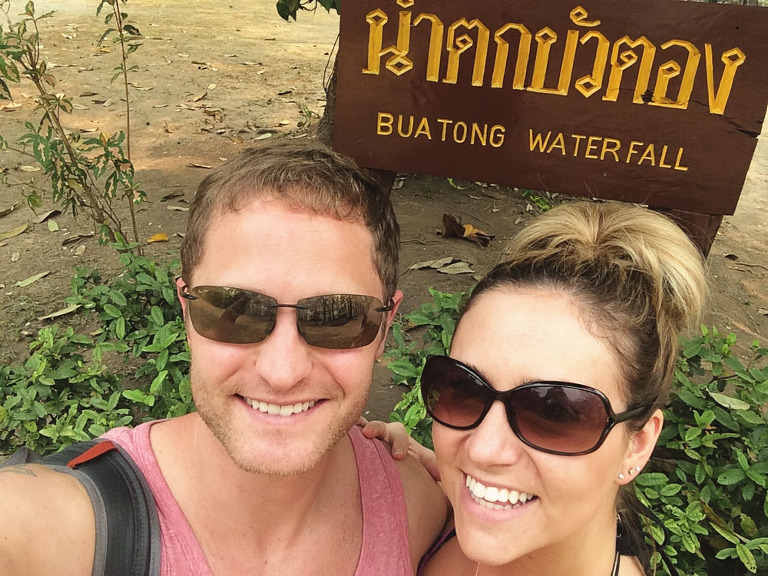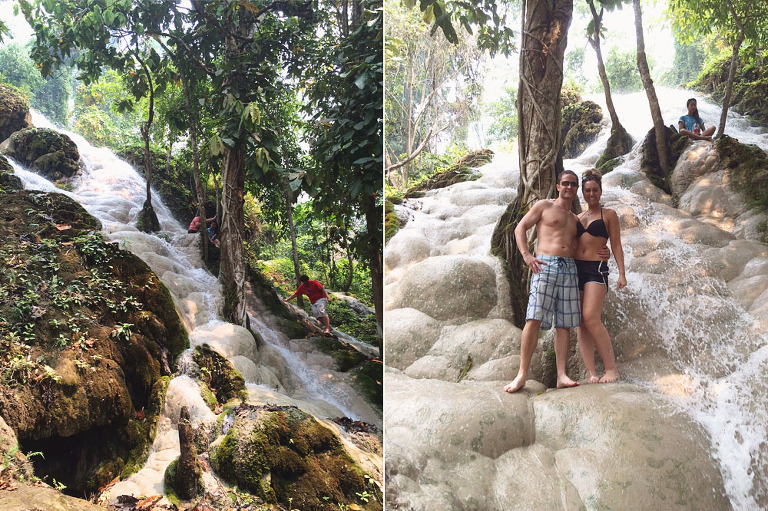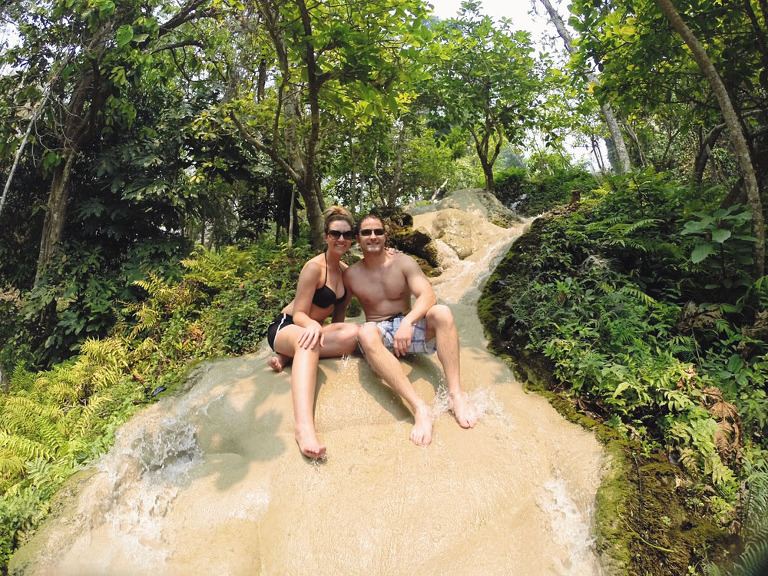 ---
CHIANG MAI:
5 Nights
Hotel:  Amata Lanna
Absolutely loved this little hotel.  It is nestled into it's own little courtyard, away from the noise of bustling Chiang Mai, yet close enough to walk to the night markets in the area.  Breakfast was included every morning and the staff was friendly, professional and helpful, along with extremely authentic.  Oh, and it was cheap!!  Would highly recommend to anyone staying in Chiang Mai.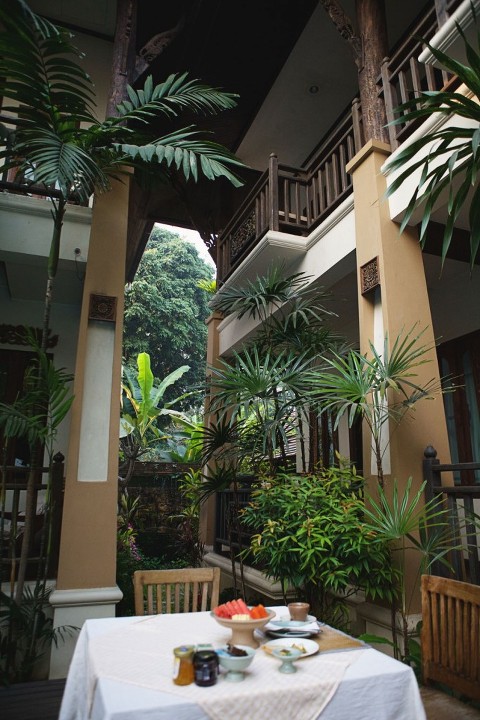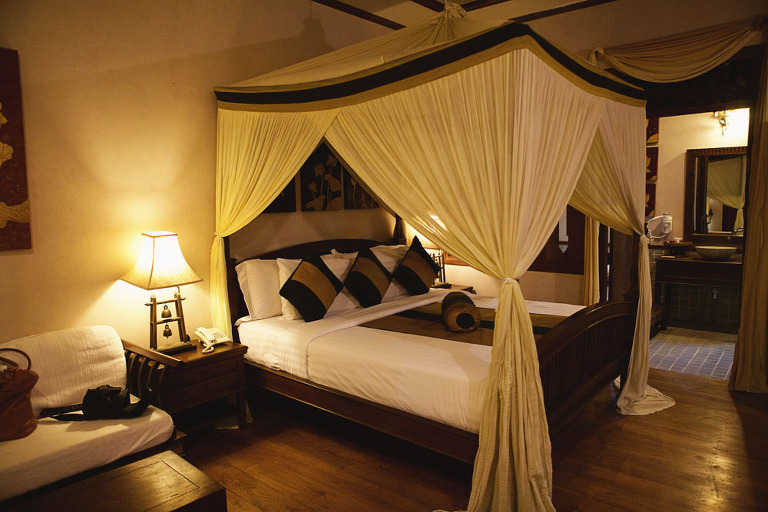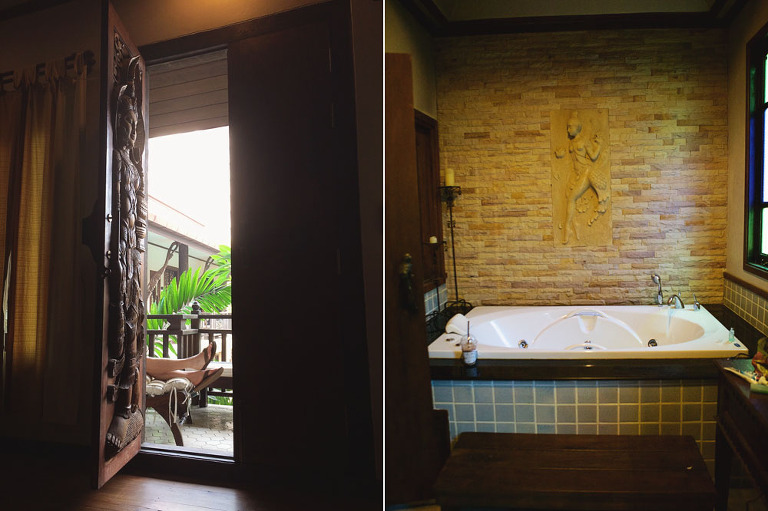 Our breakfasts every morning were perfection.  You could order any kind of egg or a traditional thai breakfast ( featured in the right image), along with teas, juices, fruits, toasts, meats, etc.  It was heaven relaxing by the little pool, drinking tea and eating the fresh, local foods.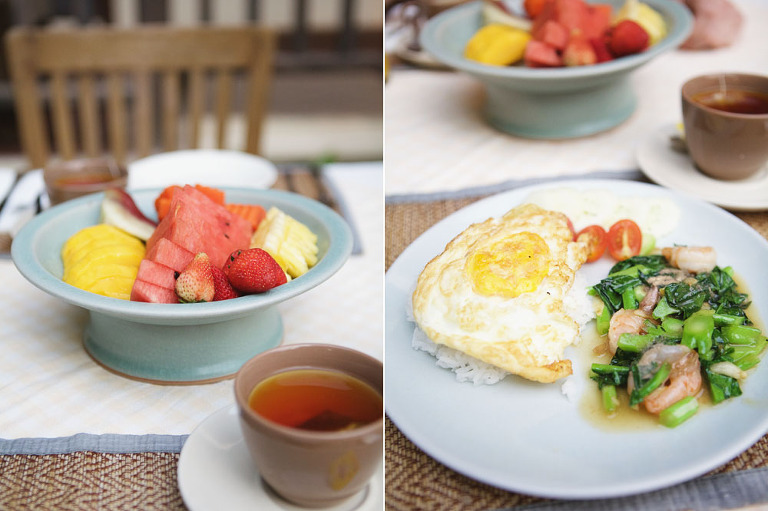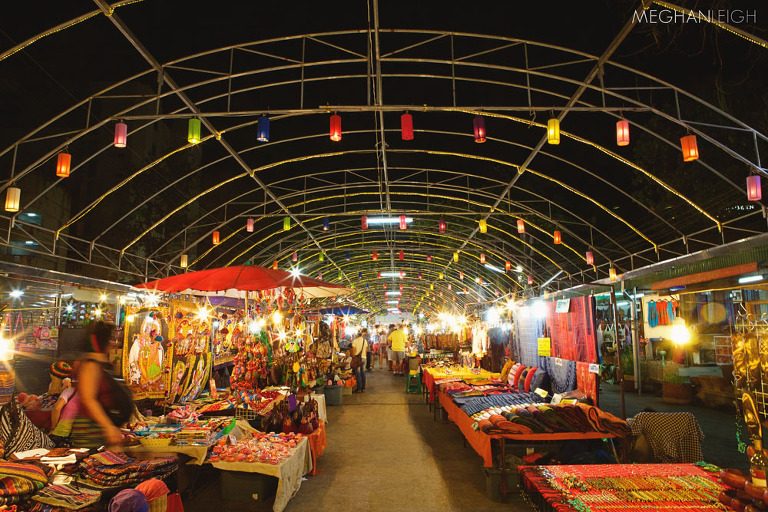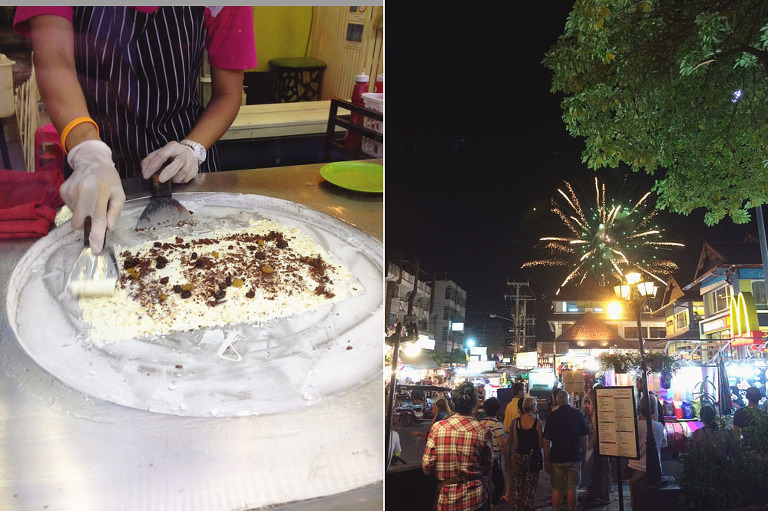 The photo on the right is Chris making the " I'm being a really good husband and standing here patiently as you shop, but if you don't hurry up, I'm going to leave you" face.  :)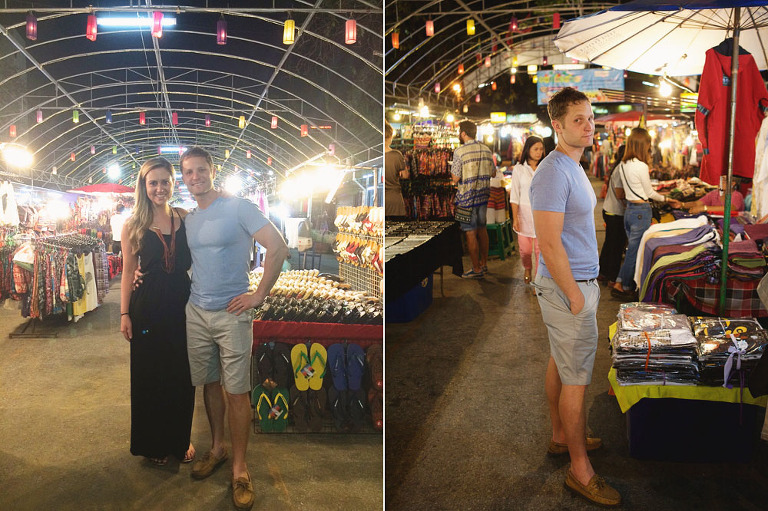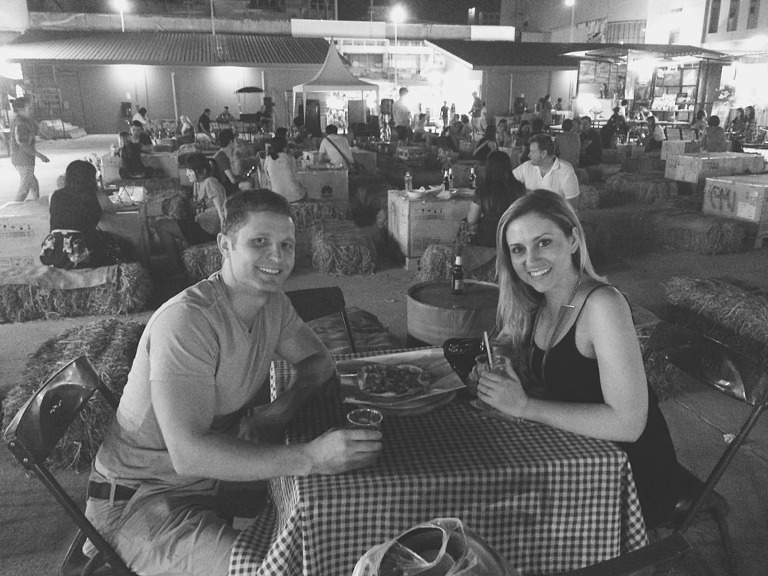 A Lot of Thai Cooking Class:  One of the highlights of the trip.  There are dozens of cooking classes in Chiang Mai, but I eventually settled on this one after much research and a few recommendations.  We spent the full day cooking( and eating) up a storm, while learning how to create the most authentic Thai dishes.  We also headed to the local market, where we were able to sample and see all of the fresh ingredients that go into Thai Cooking.  We ate some of the best food of our entire trip during this class and would highly recommend it!
http://www.alotofthai.com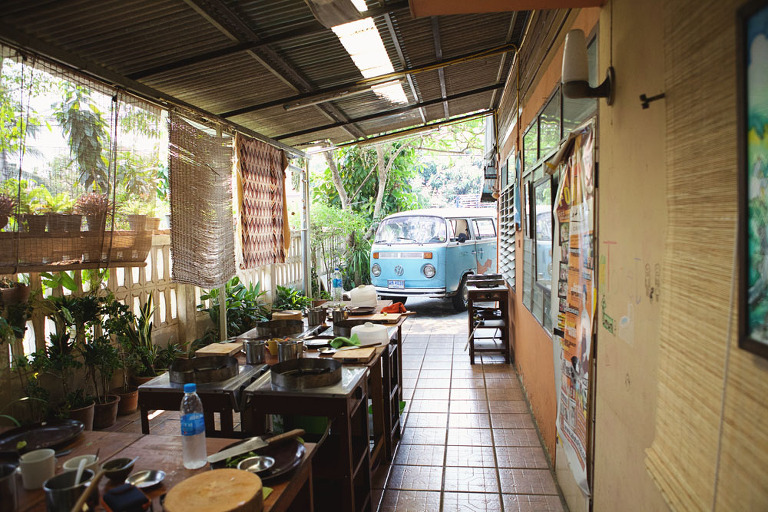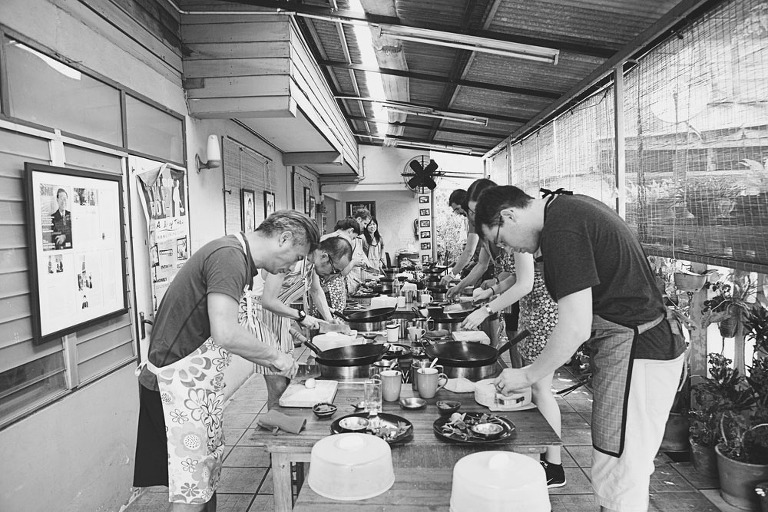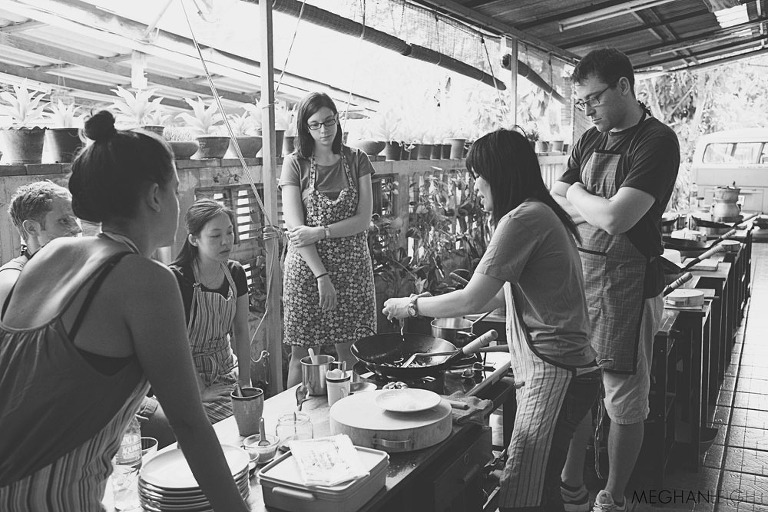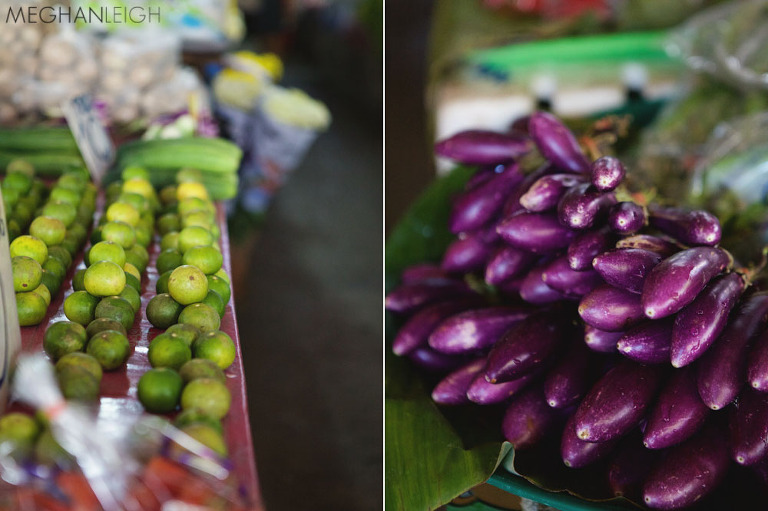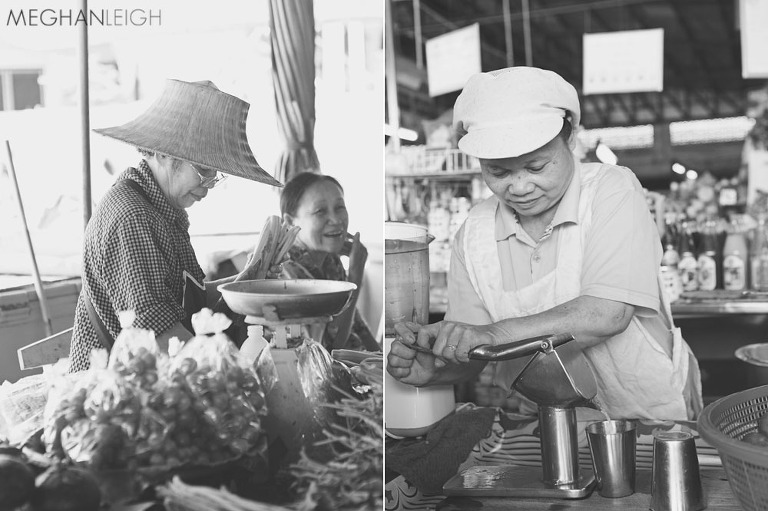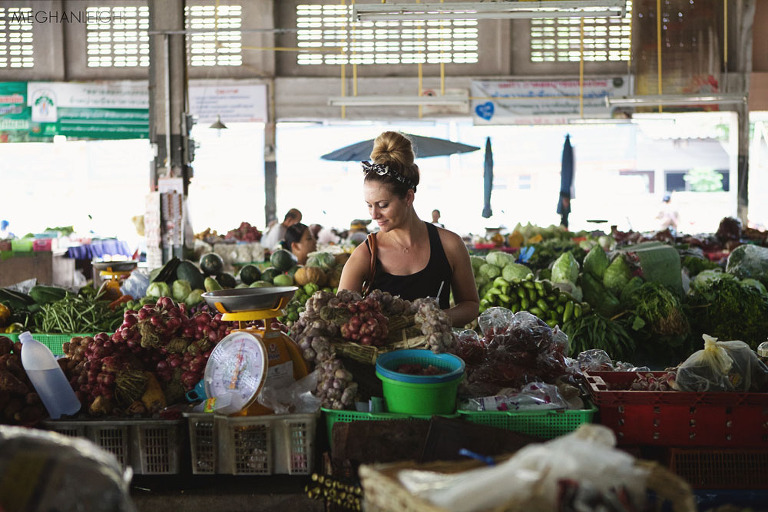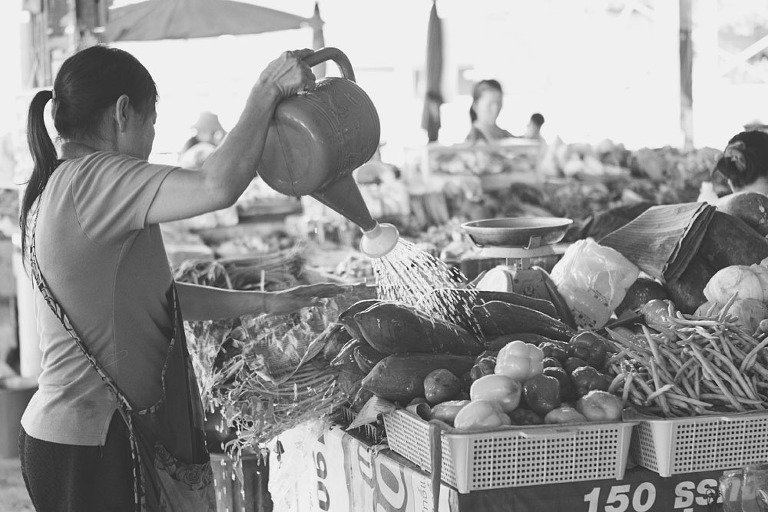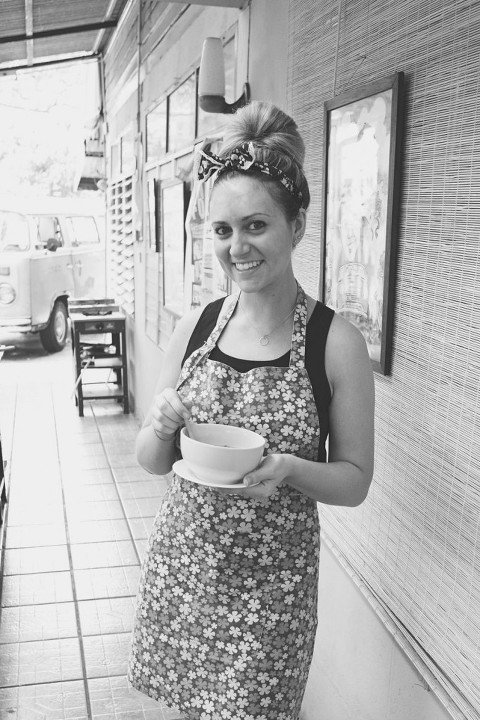 Clear and spicy Tom Yum Soup and Pad Thai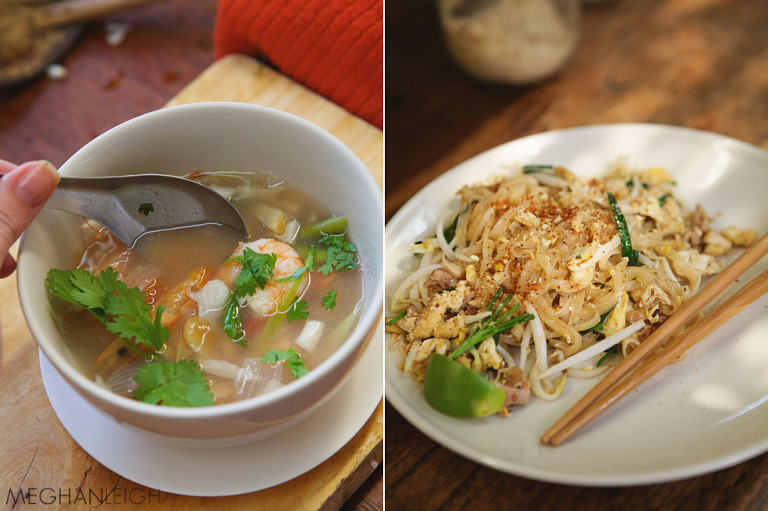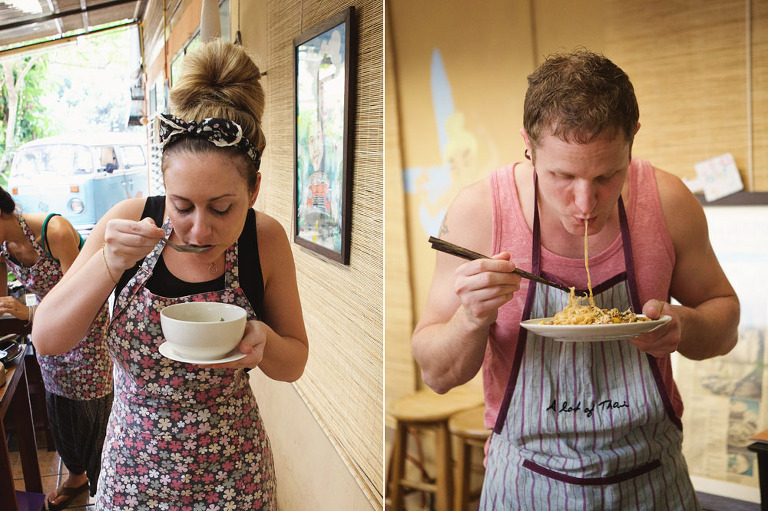 Chris's Red Curry on the left and my green curry on the right.  These were my favorite Thai dishes.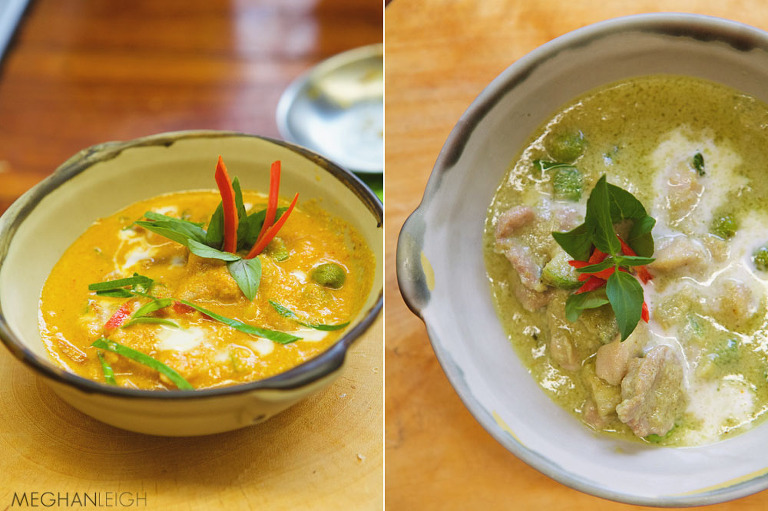 Stir fry Chicken with Cashews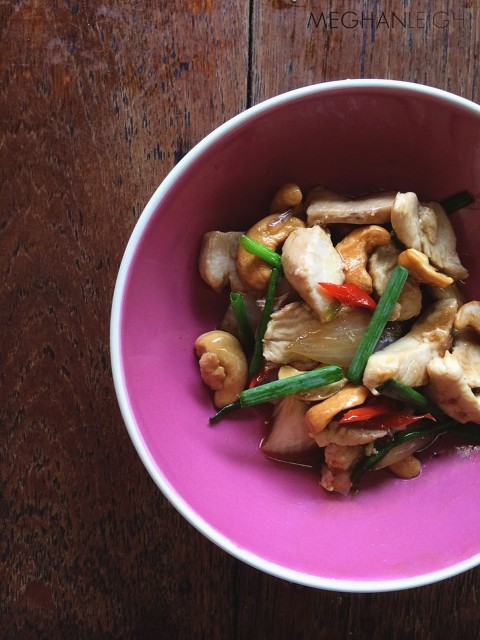 Spring Rolls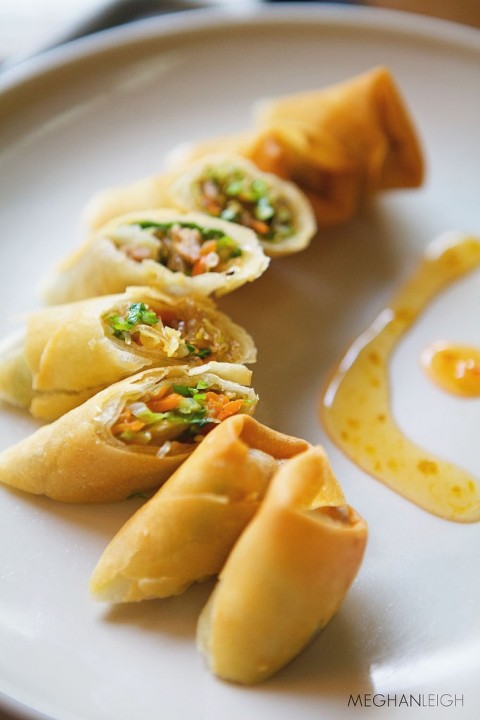 Sticky Rice with Mango- my favorite new dessert!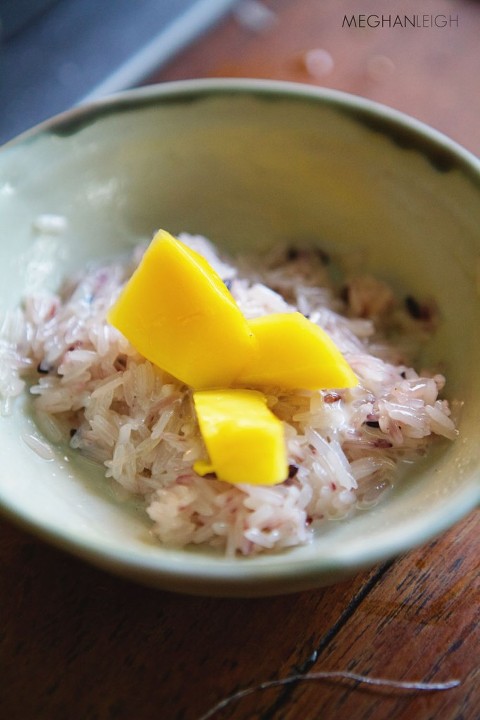 Our fantastic class was made up of people from France, Austria, China, Brazil and the U.S.   It was a pleasure being able to meet people from all over the world!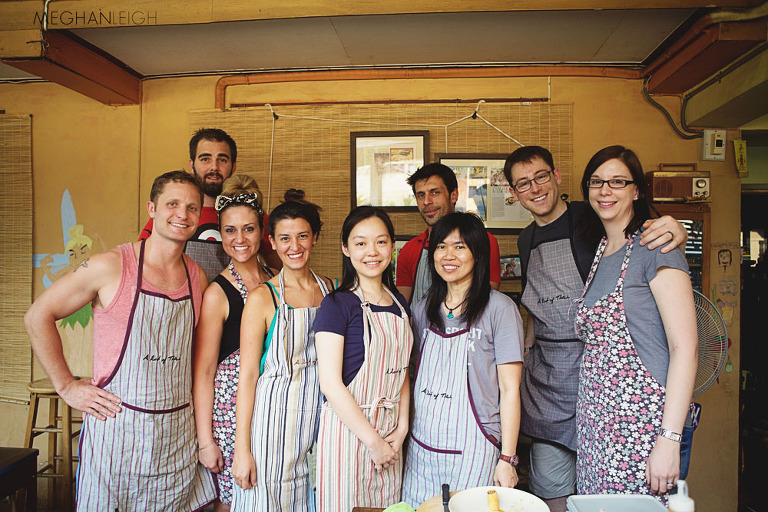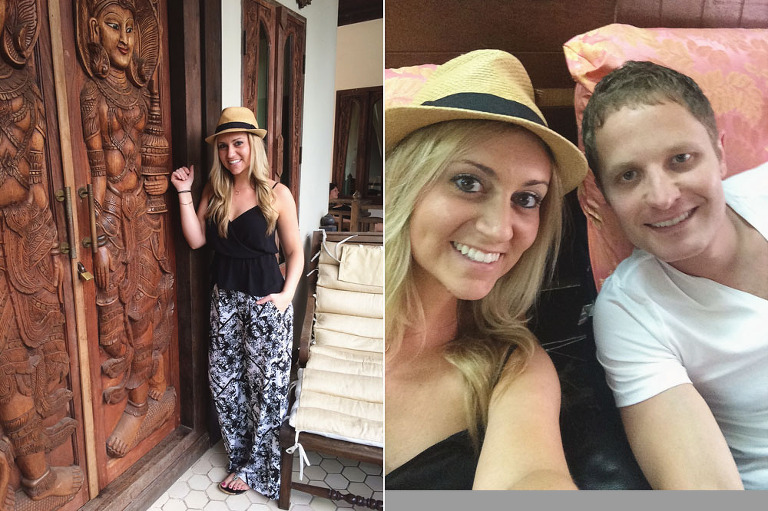 2nd Massage= 30 min. foot massage.  It was the best $5 I've ever spent.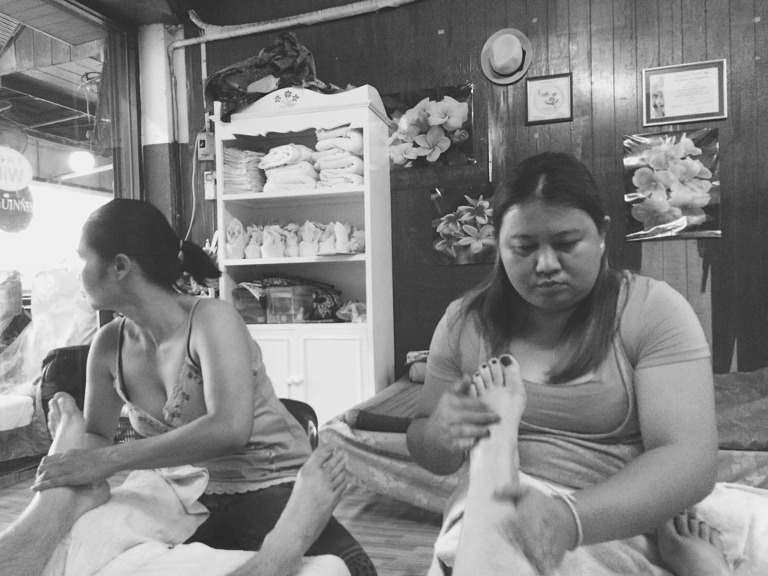 Met Tom and Carrie out in Chiang Mai and Tom found this amazing Blue's Bar on top of the markets.  Huge talent from these musicians and highly entertaining.   Would recommend stopping at Boy's Blue's Bar for a drink…or 3. :)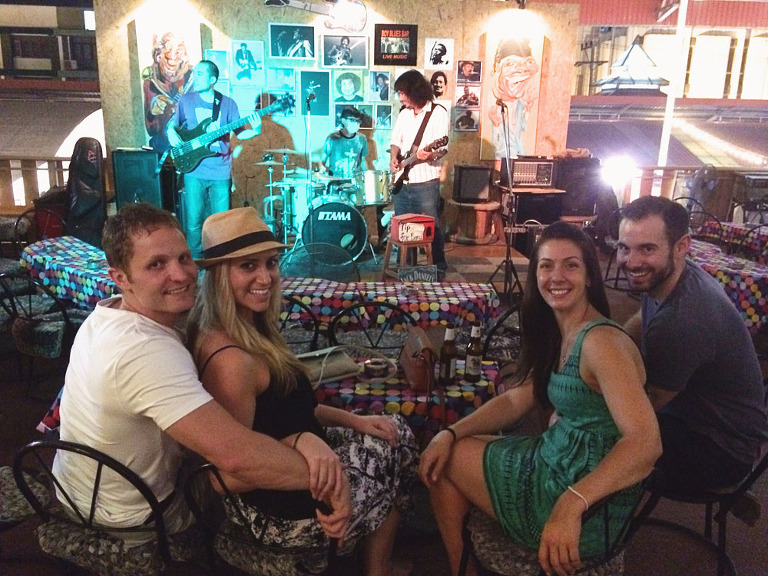 PATARA ELEPHANT FARM:  This is a must-do in Chiang Mai.  There are two companies that were recommended as being "humane" elephant farms, and we picked this one because of multiple recommendations from friends.  It did not disappoint and will probably remain one of the coolest things Chris and I will do in our lifetime.  This was much more than just seeing and riding the elephants.  This was technically an "adopt an elephant" program, where we were each assigned an elephant and learned how to feed, bathe and brush the elephant, and even check it's poop to make sure it was healthy (not joking about that last part, and don't worry- it only smelled like grass).   We were then able to ride the elephants bareback through the mountainside for a bit.  This was one of the coolest things I have ever done.  My ride was comfortable and smooth and just plain awesome.  Chris wasn't able to say the same, but loved it nonetheless.  It must have been my lucky day because I was assigned a mama elephant who had recently given birth, so I was able to hang out with not only mama, but baby Geo as well.  And let me tell you, there aren't many things cuter than a baby elephant!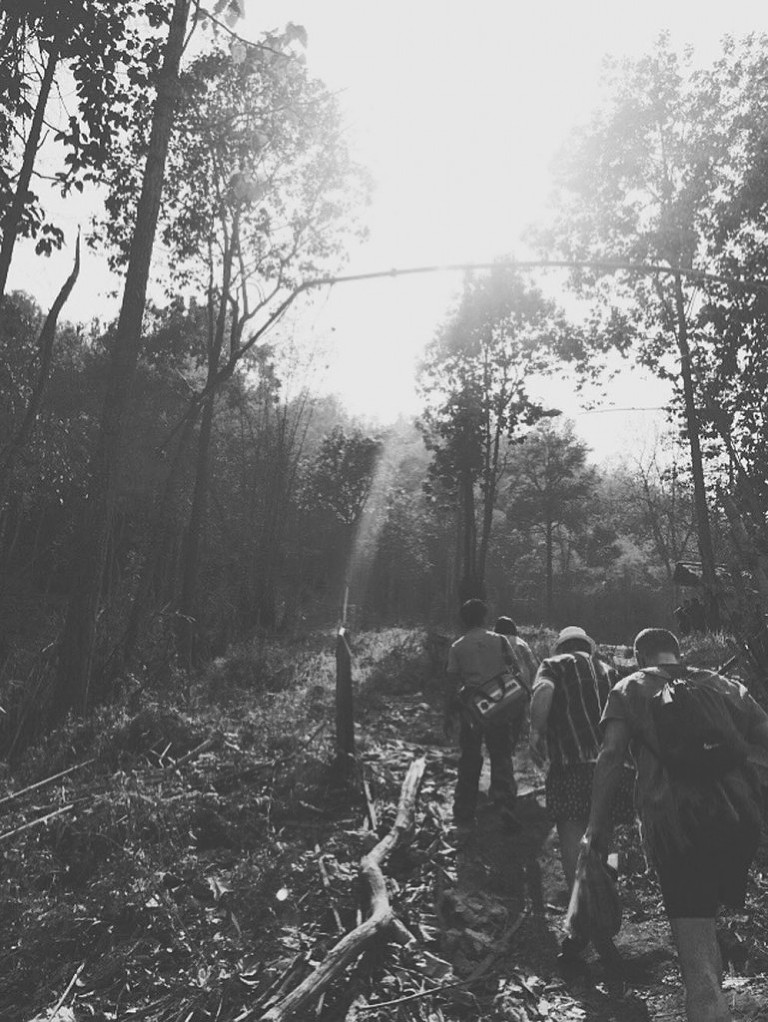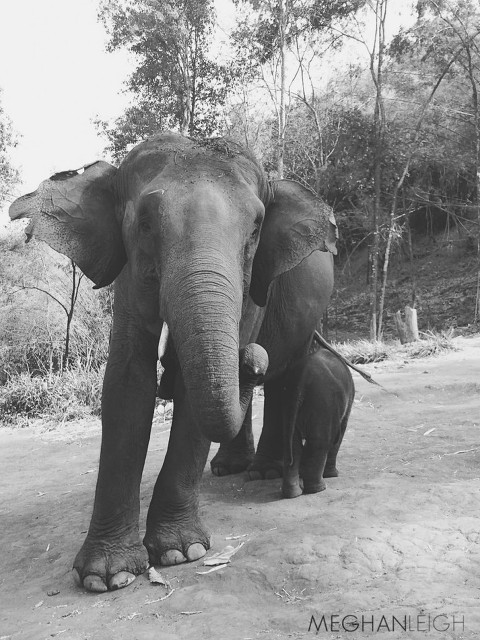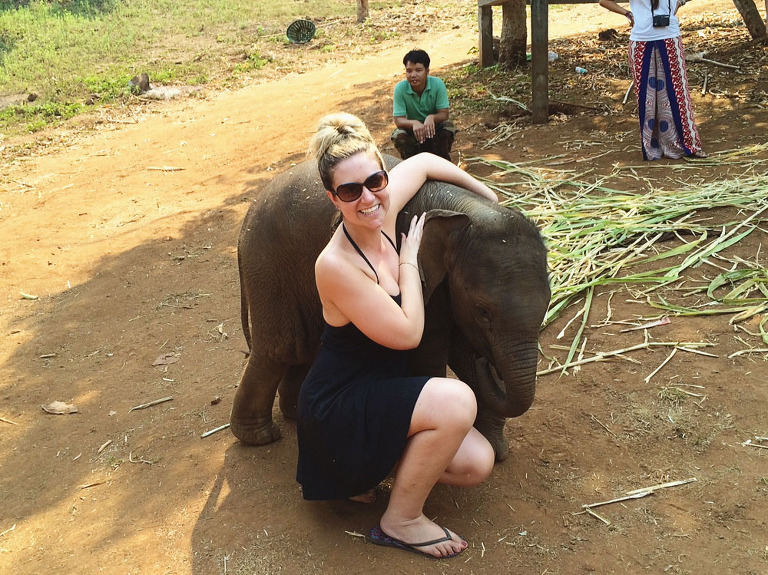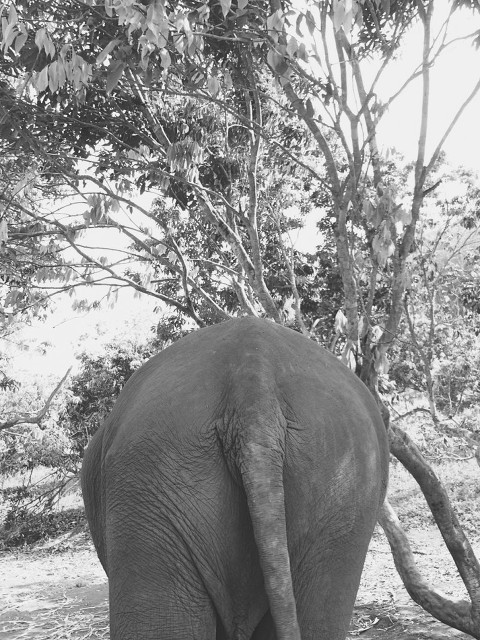 ***Because of how difficult it would have been to have cameras on hand while taking care of the elephants, they provided us with photos and videos from the experience to take home.  The following photos are from their photographer.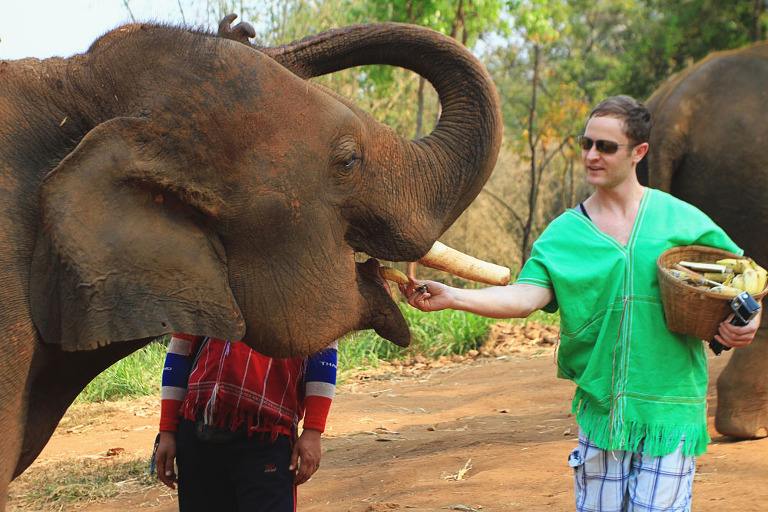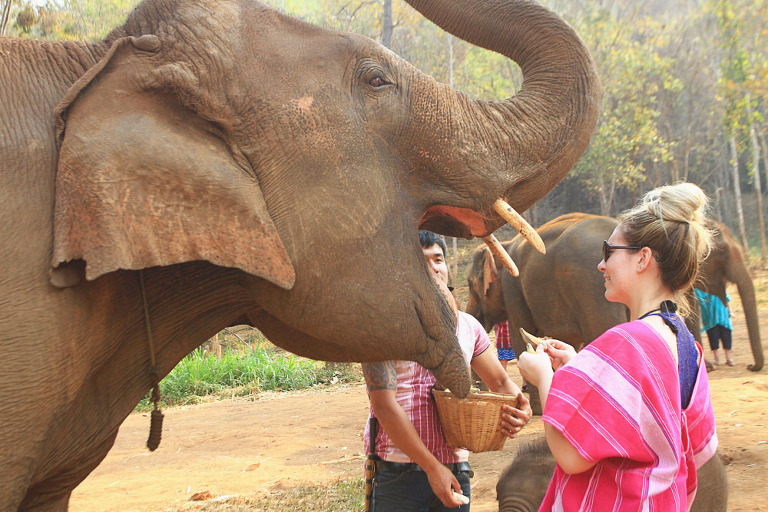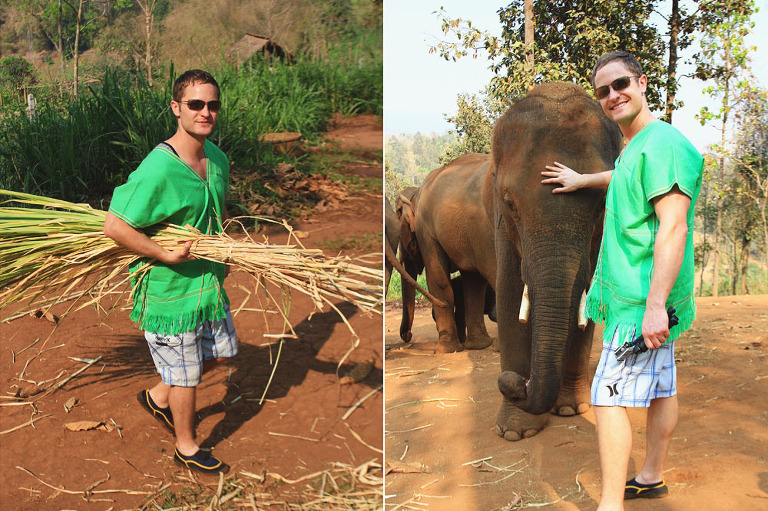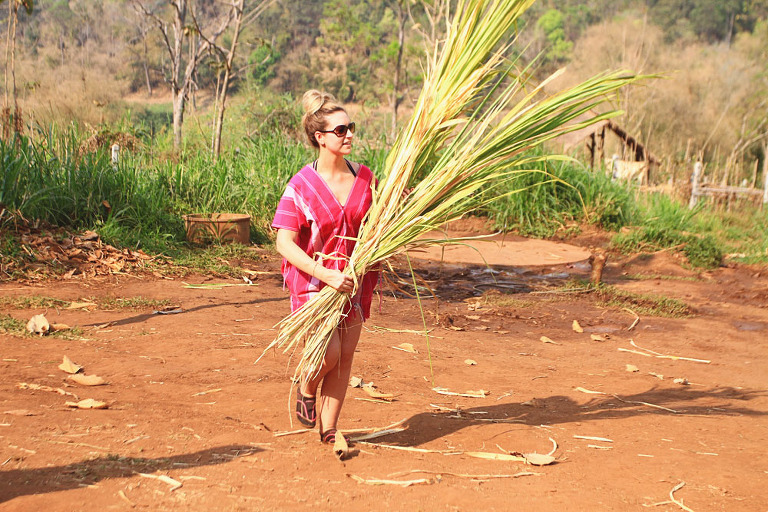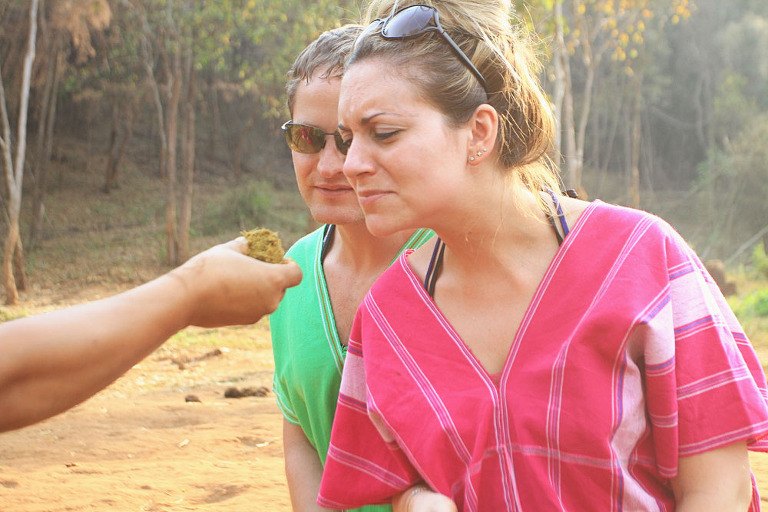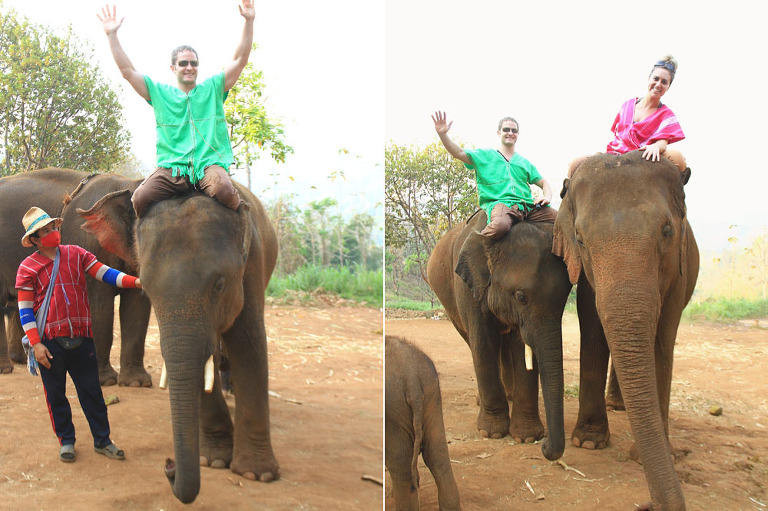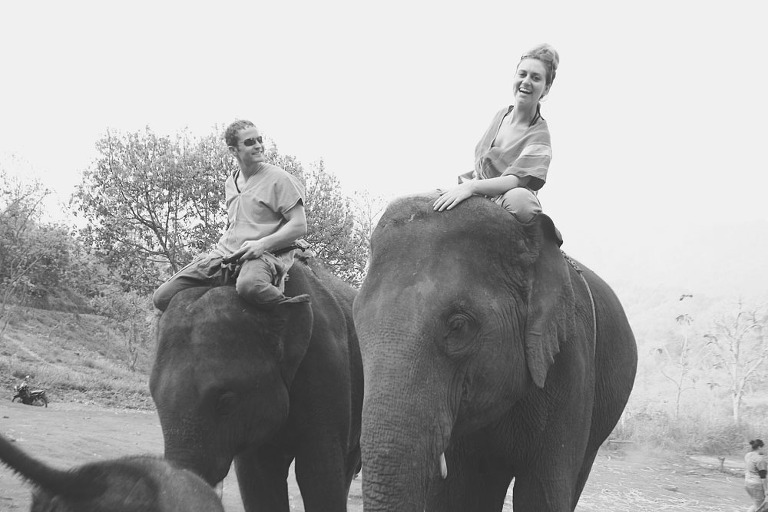 This is my favorite because it looks like she's smiling!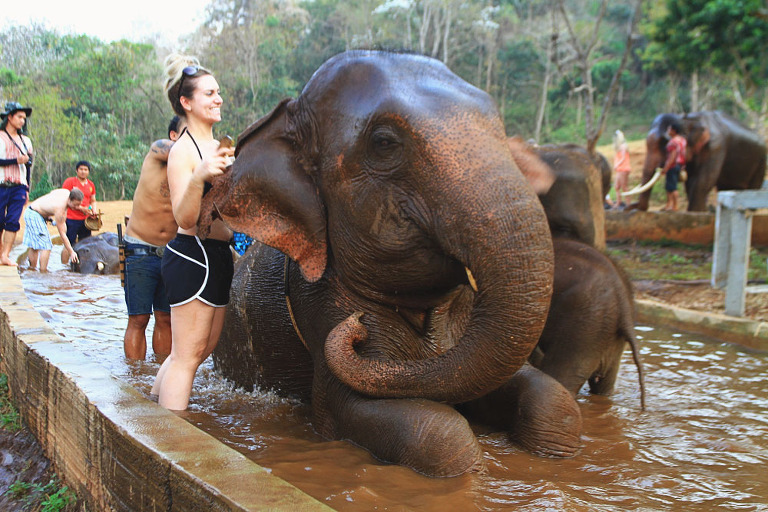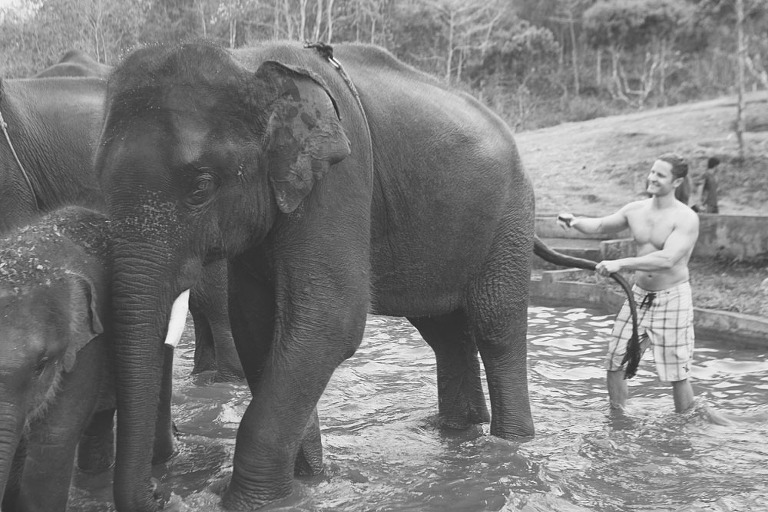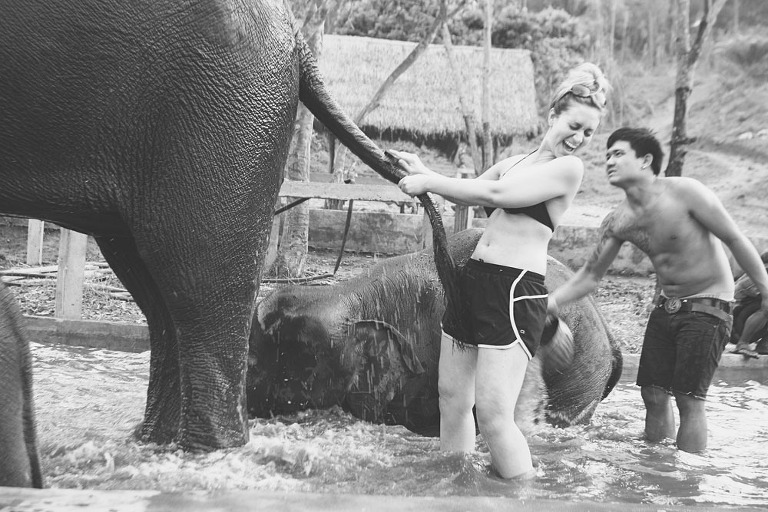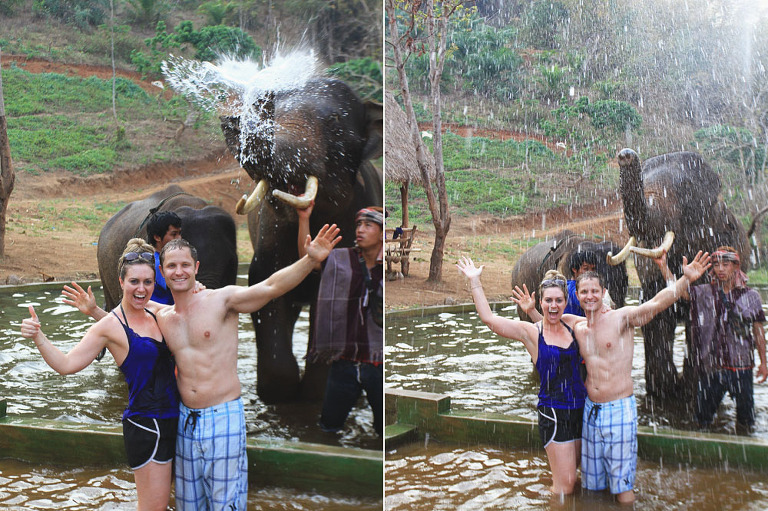 Our last day in Chiang Mai was perfection.  We hung out at a restaurant for hours, eating delicious Thai food and drank many beers, went and had an amazing head, neck and shoulder massage at the market, got iced coffees and treated myself to the best bubble bath of my life.  It was hard to leave Chiang Mai after this day. :(