---
Brussels sprouts have been all the buzz on pinterest, food blogs and even on restaurant menus lately, so I figured I needed to see what all the hype was about and try some at home myself.  Before this fall, I have honestly never eaten a brussels sprout in my life so I had a clean slate and didnt know what to expect.  Well, I'm now officially hooked and it has officially taken over the top spot of my favorite vegetable.
OK, so you're probably thinking, how the heck is she going to make brussels sprouts actually taste good?  The secret to most vegetables tasting delicious is actually the way you cook them.  I love using a cast iron skillet for veggies because you get those crispy edges from the stovetop and the deliciousness of the roasted flavor from the oven.   I have been playing with this recipe for months now and think I finally have it perfected and have found the secret ingredient it needed- cinnamon!  Yup- cinnamon.  Paired with a little bit of nutmeg and that salty pancetta, it's absolute perfection.
I'm not kidding- I have made these every week for months.  You know they're good when your husband never complains about the frequent repeats!  I promise you, I'm not crazy and that these are absolutely delicious.   Like restaurant quality delicious.  :)  Give them a try… you might surprise yourself!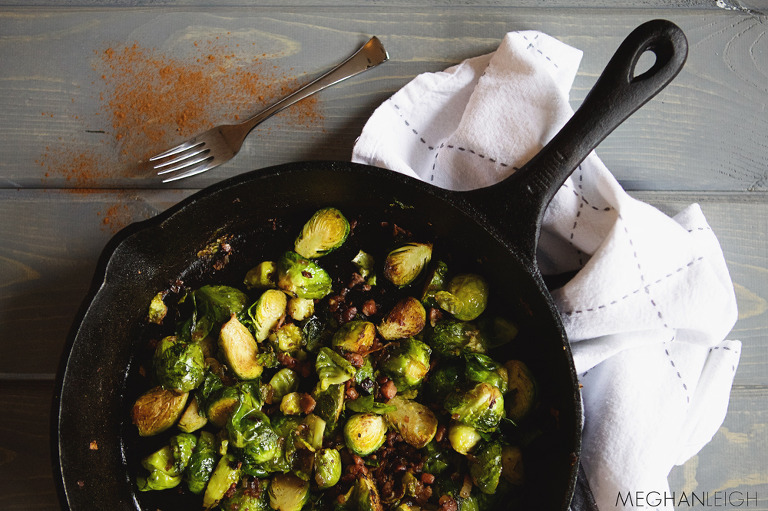 INGREDIENTS:
1 lb Brussels Sprouts
2 ounces of diced Pancetta (I find it diced and ready to go in a plastic container in the fancy cheese section)
3 tbsp olive oil ( + more if needed)
1 large shallot, diced
1 fat clove of garlic, diced or mashed
1/4 tsp ground nutmeg
1/4 tsp ground cinnamon
salt and pepper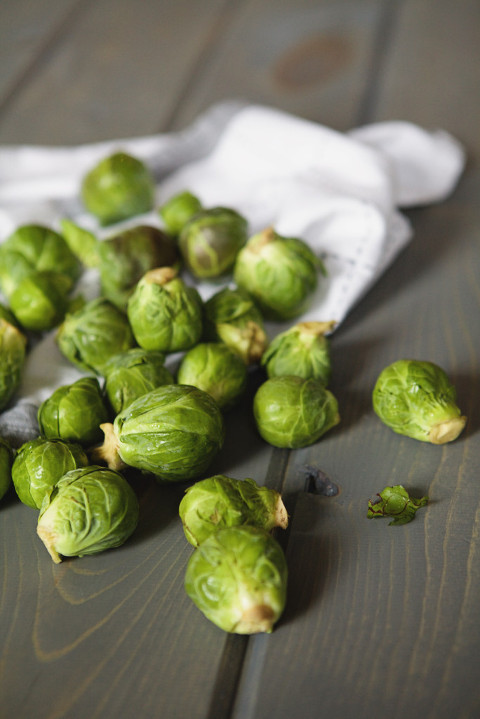 DIRECTIONS:
Start by dicing your shallot and garlic clove.  Set aside.  Half or quarter your brussels sprouts (If they're really big, I quarter them and if they're smaller, I only half them).
Preheat oven to 425 degrees
In an oven-proof skillet, add one tbsp olive oil and sauté the shallot and garlic over low/medium heat, stirring to coat.  Cook for a few minutes and then add the diced pancetta.  Stir and cook until onions are  getting soft and pancetta starts to brown and crisp. ( You will be putting this in the oven also, so make sure not to overcook or burn the pancetta and shallot mixture).
Remove the mixture and set aside on a plate.  Add another 2 tbsp of olive oil to the skillet and add the brussels sprouts to the skillet and stir to coat with the olive oil.  Cook them on medium heat until they start to brown and soften- about 5-7 minutes.  Add more oil to pan if they seem too dry.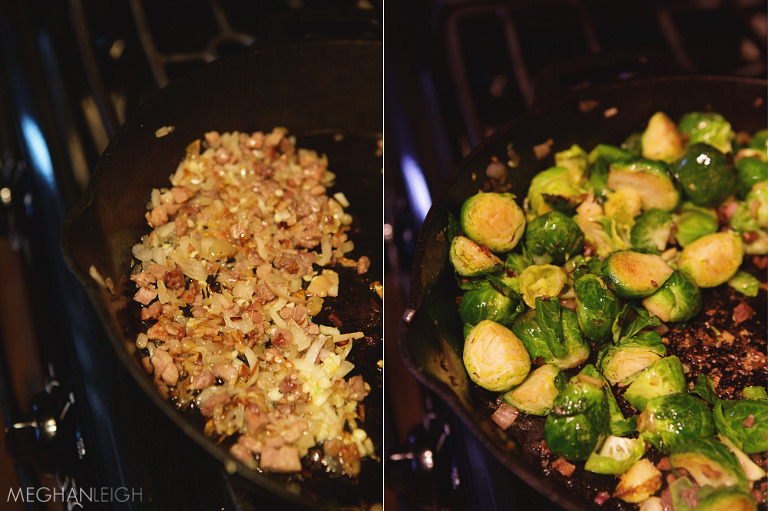 Add the pancetta/shallot mixture back into the skillet with the brussels sprouts and stir everything together.  Add the ground nutmeg and ground cinnamon.  Season with salt and pepper and stir again to make sure nothing is sticking to the skillet.
Add skillet to oven and roast for about 10-12 minutes.  Check on them half way through to make sure they're not burning.   Remove from oven and enjoy!