---
For the sake of keeping up with my heavy load of editing  right now, I'm going to keep this short and sweet.
I bought this amazing cookbook from Nordstrom recently and have loved every minute of trying out their delicious dishes.  This salad is a combination of two of their salads and also has a few extra tweaks from me.  I figured it was the perfect time to share a salad with summer's delicious blueberries in it!
The stars of this salad are the marinated onions and the dressing I think, so don't omit them!   Enjoy!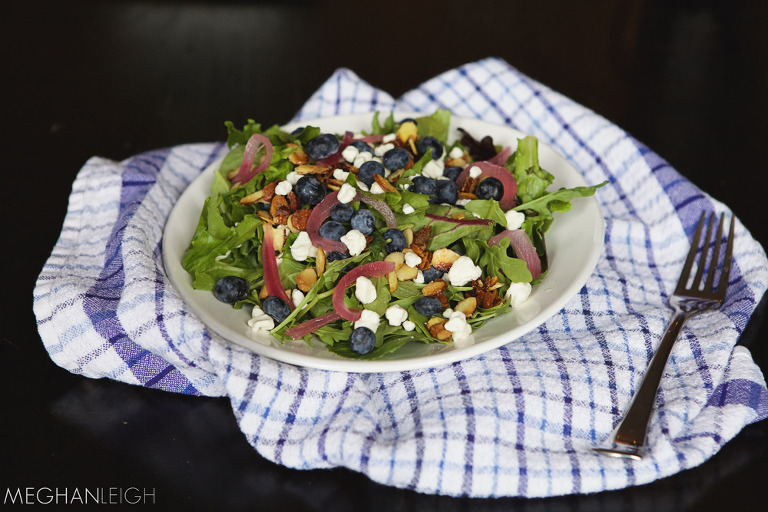 INGREDIENTS:   Serves 6
For the salad:
1 pint of Blueberries
3.5 ounces of Goat Cheese crumbles
Sliced Almonds ( I always use my "candied almonds" technique found here)
8 ounces Mixed Greens
8 ounces Arugula
Optional- Grilled Chicken Breast, cut into strips.   ( grilled using olive oil, salt and pepper only)
For the Marinated Red Onions:  * Dont be intimidated, it's so easy!
1 cup seasoned rice wine vinegar
1/3 cup sugar
1 tsp salt
1/4 tsp black pepper
1 bay leaf
1 large red onion, cut into 1/4 in. thick half-moon slivers
For the Cherry Balsamic Vinaigrette:
1/2 cup balsamic vinegar
1/4 cup sugar
1/2 cup cherry preserves ( dont use cherry jelly)
1 tbsp roasted garlic ( I used jarred)
1/4 cup red wine vinegar
1 cup canola or vegetable oil
salt and pepper to taste
DIRECTIONS:
 To make the marinated onions, in a medium saucepan, bring the vinegar, 1 cup water, sugar, salt, pepper and bay leaf to a simmer over high heat.  Stir to dissolve the sugar and salt.  Add the onions, return to a simmer and cook for 1 minute.  Remove from the heat.  Transfer to a glass bowl ( I use my PYREX bowl with a lid) and let cool on the counter.  Cover and refrigerate for at least 1 and up to 2 hours.  Drain well, discarding the bay leaf.  
**The drained onions can be refigerated in an air tight tupperware or pyrex bowl for about a week.  I use mine in my salads all week and they're also delicious in a steak salad!!
2)  To make the dressing, bring the balsamic vinegar and sugar to a simmer in a small nonreactive saucepan over medium heat.  Stir frequently to dissolve sugar.  Simmer uncovered until the liquid is reduced by half, about 10 minutes.  Add the cherry preserves and garlic and cook another 1 minute longer.  Remove from heat and let cool.  Transfer to your MAGIC BULLET or similar small food processor or blender.  Add the red wine vinegar and puree until smooth.  Then, add your olive oil ( if your'e using a food processor, add through the top with the machine still running).  Season with salt and pepper to taste.
** This dressing recipe makes 2.5 cups, even though you'll only need about 1 cup for this salad for 6 people.  Put the remaining dressing in an airtight tupperware or mason jar in your fridge and poor it on your salads for lunch or dinner all week!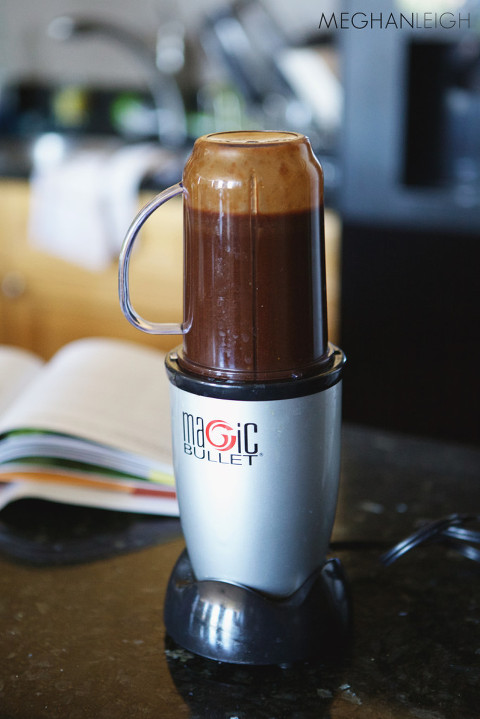 3)  Toss the mixed greens and arugula in a large bowl and then add some marinated onions, blueberries, goat cheese and almonds.  This is al l about ratio, so dont add all of them right away.   Toss again and then top with more of the ingredients, and then drizzle with the dressing.  Be careful not to add too much of the dressing or ingredients.  I usually just bring the dressing to the table and let people drizzle it onto their individual salads.