---
What happens when you combine some of summer's perfectly ripe tomatoes with creamy mozzarella,  freshly grown basil, protein-packed quinoa and a delicious balsamic vinaigrette?  You have healthy magic my friends…..
We eat Caprese salads ( tomato, mozzarella and basil) pretty often around here and I wanted to find an easy way to turn it into a more chopped up salad.  I started with the small cherry tomatoes, small mozzarella "pearls" and then added some quinoa and combined it with one of my favorite homemade balsamic dressings!  I topped it with some diced basil and Bam!….. you have a Caprese Quinoa Salad!  Easy. Delicious.  Healthy.  You're welcome.  ;-)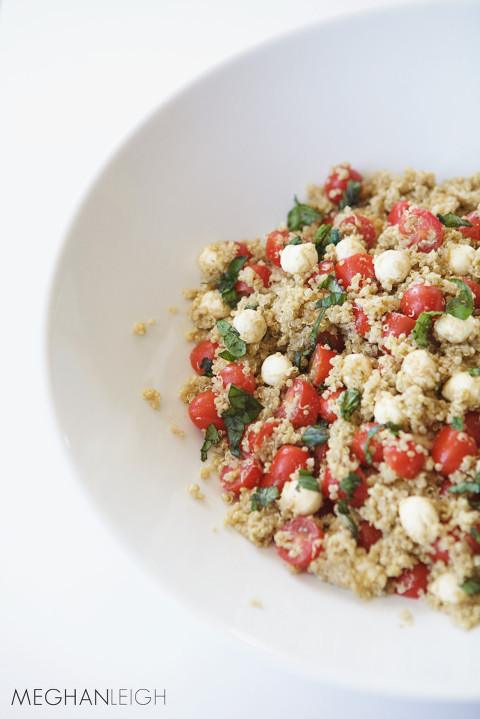 INGREDIENTS:
For the Salad:
2 Cups Cherry Tomatoes
1 Cup Raw Quinoa
2 cups water
8 oz. Mozzarella "pearls" or Mozzarella cut into "nickel size" chunks
1/4 cup fresh basil, (or enough to disperse evenly throughout salad)
For the Dressing:  * You will need a magic bullet, blender or food processor
1/2 shallot
1 tbsp basil
1/2 tsp sugar
1/4 tsp pepper
1/4 tsp salt
6 tbsp olive oil
3 tbsp Balsamic Vinegar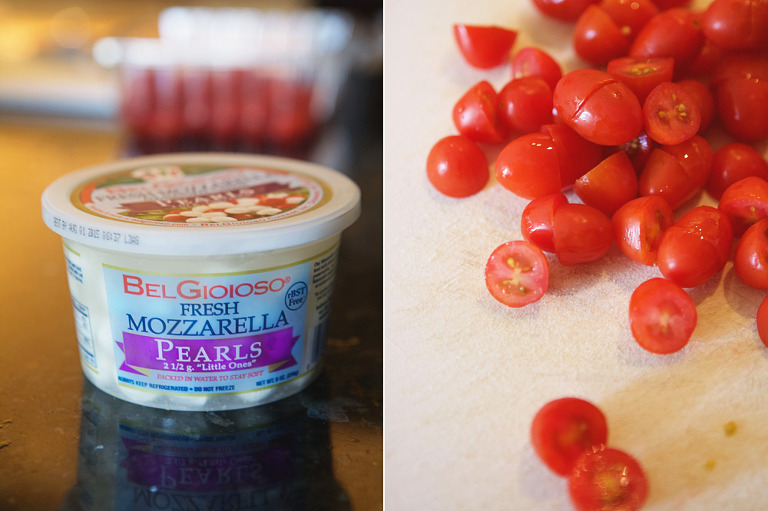 DIRECTIONS:
In a medium saucepot, start by combining the one cup of uncooked quinoa with 2 cups of water and then cook according to package instructions.
While quinoa is cooking, take out a big pyrex bowl, or a bowl with a lid ( if you plan on storing this in your fridge to eat all week).  Start by halving all of your cherry tomatoes and throwing them into the bowl.  Then, drain out the water from the mozzarella pearls and then add them to the bowl of tomatoes.
In a magic bullet ( I cannot begin to express my love for a magic bullet.  If you don't have one, BUY ONE! I use it for so many things!) or a small blender or food processor, blend the shallot, basil, sugar, pepper, salt and balsamic vinegar together.  Then add the olive oil slowly through the top of the food processor while blending, or just add it all in ( if you're using a small blender).  Blend until no chunks of the shallot are left.
When quinoa is finished cooking, set it aside and let cool for a bit.  Once it's cooled off, ( you dont want the hot quinoa to melt the mozzarella balls) add it to the bowl of tomatoes and mozzarella and then toss with the dressing.  Add the chopped basil, toss again and then top with more sprinkled basil if desired.    Now you have an easy and delicious summer salad for lunch this week or a healthy dinner side!
ENJOY!