---
Need the perfect summer salad to bring to your 4th of July party/barbecue this weekend?  Well, look no further my friends….I've got you covered.
I've been making this salad for probably 4+ years now and every time I make it, I question why I don't make it more often.  It's stupid easy and so healthy.  Oh, and it's ridiculously tasty and versatile.  I normally eat it with sliced avocado as a lunch salad, but you can just as easyily serve it as a black bean salsa with tortilla chips on the side.  My husband and I decided that it would be amazing to try this with quinoa or grilled chicken mixed in next, and the wheels are also turning as to how I can make tacos with these too,  so stay tuned for more recipe spinoffs soon!
Original recipe taken from "Once Upon a Chef".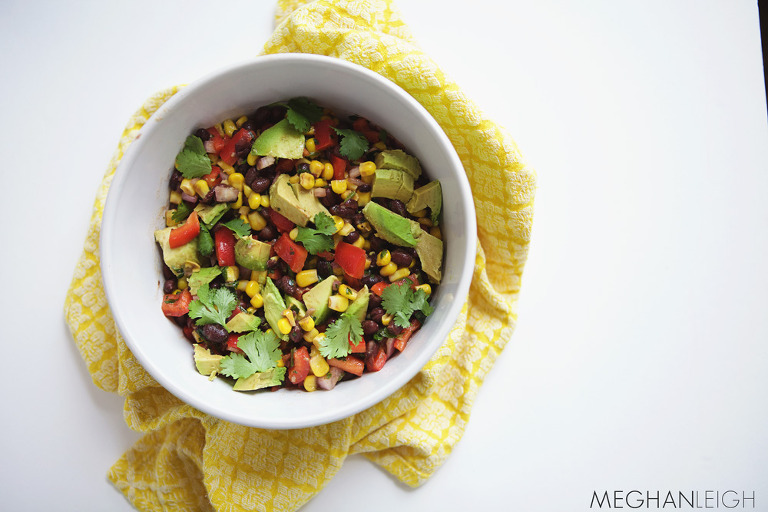 INGREDIENTS:    (Makes about 5-6 side dishes or one small party-sized salad )
2  15-ounce cans black beans, rinsed and drained
3 ears fresh cooked corn, kernels cut off ( or 2.5 cups of frozen corn, cooked)
2 red bell peppers, diced
2 cloves garlic, minced
2 tablespoons minced shallots
2 teaspoons sea salt
1/4 teaspoon cayenne pepper
2 tablespoons sugar
8-9 tablespoons extra virgin olive oil
1 teaspoon lime zest
(be sure to zest limes before juicing them)
6 tablespoons fresh lime juice (or the juice from 4 limes)
1/2 cup chopped fresh cilantro, plus garnish
2 Hass avocados, chopped
** TIP— roll the limes back and forth first by firmly pressing down on them.  This helps loosen up the juices before you squeeze them to give you the most juice possible.  :)
DIRECTIONS:
Combine all of the ingredients in a large bowl (I use my large pyrex glass bowl with a lid so I can store leftovers in the fridge).  Wait to add the chopped avocado right before you serve.  You can serve this salad right away or store in the fridge with a lid for a few hours to allow for flavors to blend.
If I'm only making this for us two at home, I usually add one avocado on the first day that I serve this and then if I have leftovers, I wait to add the next avocado until I eat it the next day.  The acidity of the lime juice in this salad helps the avocados from turning brown really fast, but avocados still taste and look best right when you add them to the salad, so I add one at a time.  If you'e making it for a group, add both avocados right away! :)