---
So the other day, I was staring in my fridge trying to figure out what I was going to throw together for us for dinner.  I had a jar of some leftover pesto I made earlier that week and also some leftover grilled veggies.  I was craving some good comfort food so I ended throwing together this grilled veggie panini and it was absolute deliciousness.  I mean honestly, what kind of grilled cheese doesn't taste good?………
My advice would be to make grilled veggies as a side dish earlier in the week and also make the homemade pesto and put it on top of grilled chicken breasts.  Then you have one full dinner there and you can make this panini later in the week with the leftovers!
*Recipes for the homemade pesto and grilled veggies are linked below.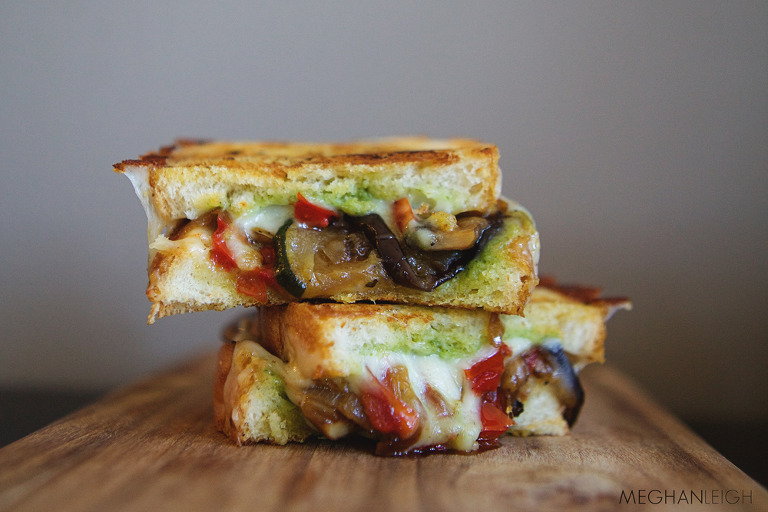 INGREDIENTS:
**Makes two paninis
1.5 cups of grilled vegetables of your choosing. I usually use these veggies.
4 slices of Italian bread
4 slices of mozzarella cheese
About 2 tbsp of prepared pesto.  ( Recipe found here).
2 tbsp of regular mayo
Butter
DIRECTIONS:
If you haven't already done so, start by grilling your veggies.  Follow this recipe for how to do that.  Otherwise, if you have leftover grilled veggies like I did, start by heating up the veggies with a small amount of olive oil on a skillet for a few minutes.
Next, take your pesto and mix it with two tablespoons of mayo.  Set aside.
Take each slice of bread and spread with a bit of butter, just like you are making a grilled cheese.  Place the butter side of two slices down on a skillet or panini pan.  Then, top that with about a 1/2 tbsp of pesto mayo.  Follow that with a slice of mozzarella and then top with grilled veggies.  Layer another slice of cheese on the veggies and then spread the top bread slice with another 1/2 tbsp of pesto mayo before placing it butter side up.  Grill until golden brown and cheese is fully melted.