---
I have a love/hate relationship with crockpot cooking.   I  acknowledge that my condo windows might get egged upon admitting this…so let me explain.  The thought of cooking full entrees and whole roasts in a crockpot really grosses me out, so I tend to stay away from that.  But cooking soup and chilis and sauces in a crockpot……..best thing ever!!!  The idea that dinner can be ready when I come home from a long day of shooting or that the house will smell like yummy goodness all day makes me sooooo happy.  And what makes me even MORE happy?? Eating this Creamy Chicken Enchilada Soup.  Oh my gosh is it good….like, go back for 2 of 3 helpings good.  Don't judge me.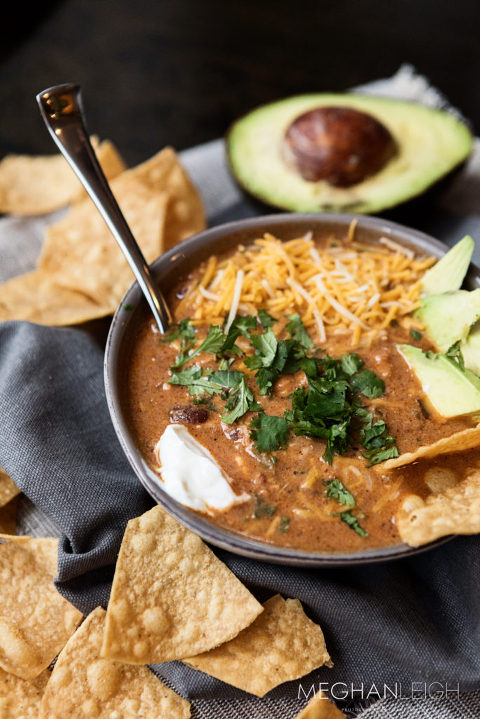 In order to get softer onions and that cream cheese incorporated into this soup, I start by cooking the onions and garlic in the skillet, followed by adding in the enchilada sauce and (this is KEY!)  room temperature cream cheese.  After that's out of the way, we can transfer into the crockpot and begin the easy-peasy slow cooking technique that speaks everyone's love language.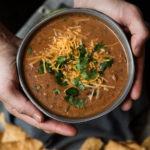 Creamy Chicken Enchilada Soup
2017-11-02 10:46:28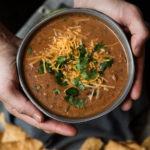 An easy and delicious skillet to crockpot recipe that's perfect for cold days in.
Ingredients
Crockpot!
2 cloves garlic
1/2 of a yellow onion, diced small
2 decent sized chicken breasts
2 tsp cumin
1 tsp chili powder
1 can black beans, drained
1 can of red enchilada sauce (10 ounces)
1 can of fire roasted diced tomatoes (15 ounces)
1 small can of diced green chilies ( fire roasted is fine, and so is mild or hot)
2 cups chicken broth
8 oz cream cheese at room temperature (do NOT use low fat or it will curdle more)
Optional Toppings
Crushed tortilla chips
Avocado slices
sour cream
diced green onions
cilantro
shredded cheddar cheese (or mozzarella, mexican, etc)
Instructions
First, make sure your cream cheese is at room temperature and set aside. In a medium-large skillet, heat a tbsp of olive oil. Add in the diced onions and cook for about 5 minutes on medium heat. Add the garlic and stir. Cook for a few more minutes until the onions are softening.
Add in the enchilada sauce and cream cheese and stir until combined. The cream cheese might clump a bit but this will go away as it cooks longer and melts in the crockpot later.
Transfer this mixture to the crockpot.
Add the beans, chicken broth, fire roasted tomatoes, green chiles, cumin, chili powder and raw chicken breasts to the crockpot. Stir to combine.
Cook on high heat for around 3 hours and then pull the chicken out to shred on a cutting board. (If it's not fully white in the middle, add it back to cook in the pot longer). Shred the chicken and add back to crockpot.
Continue cooking for 1-1.5 hours longer on high.
Meghan Leigh | Photography and Lifestyle | Hinsdale and the greater Chicago area http://meghan-leigh.com/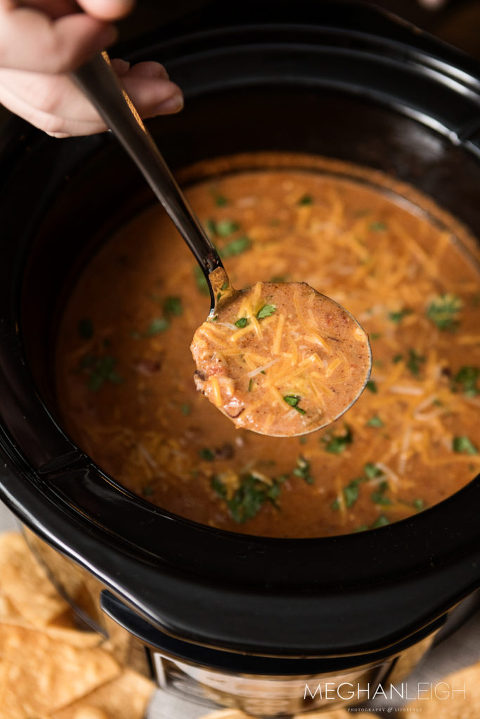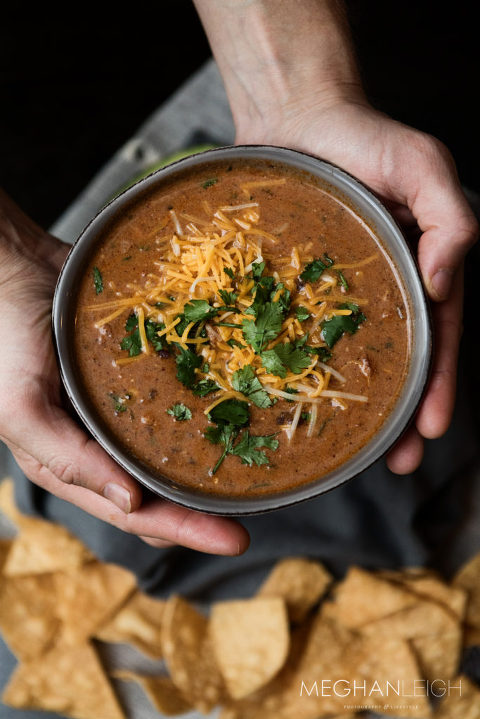 No enchilada or tortilla soup is complete without crunchy tortilla chips, sour cream and shredded cheddar, but I like to get a little wild and throw in some cilantro and avocado too.  I almost feel like it would be communist to leave out the toppings.  They're the essence of the soup!!!! Load up on the toppings….just trust me on this. :)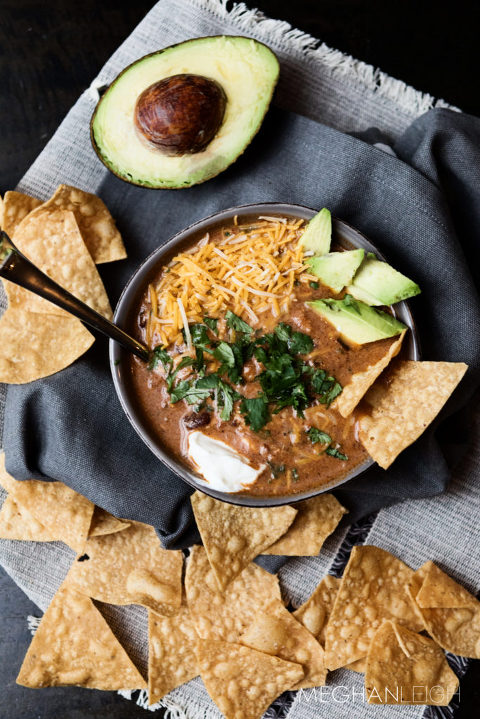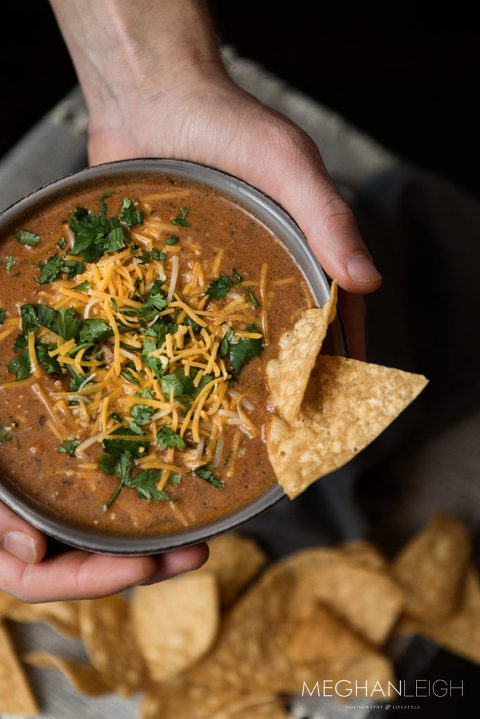 ---