When we first found out we were pregnant in early July 2017, we decided not to find out the gender of baby Iasielo.  To this day, we love the excitement of not knowing….even though we've had to wait a bit longer than expected ;)   I get the question, "how do you design your nursery and pick out clothes without knowing the sex of the baby?" alllll the time.    Honestly, it hasn't been an issue at all because I love neutrals anyways and always knew I didn't want a nursery with pinks or blues necessarily.  So when it came time to start compiling inspiration for my own nursery, I looked no further than the gender neutral baby nursery boards on Pinterest.  I went back and forth between a ton of designs but knew I wanted to throw in some travel inspiration, incorporate some animal prints from our safari and keep with the white and natural wood theme.  
Our nursery used to be our office and spare bedroom….and because we're losing that space, we honestly aren't sure how long we'll stay in this condo.  With both of us working from home, a designated office space is kind of crucial.  With that said, we wanted to stay pretty neutral, paint the walls a simple off-white, swap out the old carpet and finally install hardwood floors and install black out blinds….for resale purposes eventually.  After that was done, I started designing boards and collecting inspiration for what I wanted to do on Pinterest.  With my busy work schedule every fall, Chris being out of town for work often and the holidays, we didn't even get start on ordering furniture or anything else until mid January.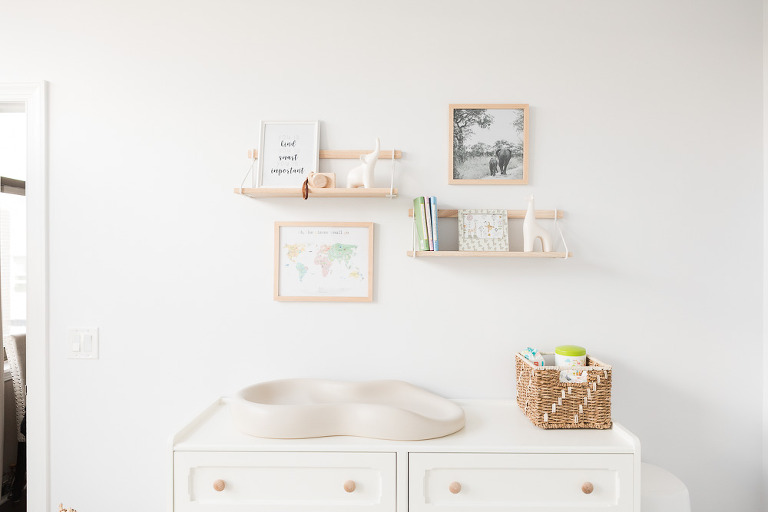 Chris found this awesome mid- century modern (ish) dresser at Land of Nod outlet one day and sent me photos and I was sold.  I knew I wanted to swap out the outdated, silver hardware on the drawers and get some neutral knobs, but otherwise it was perfect!  Once we had that piece and I knew I liked it in the space, we started ordering the other furniture.  I fell in love with the Babyletto cribs and recliner because of their modern and simple designs.  Babyletto furniture is sold at Buy Buy Baby, Babyletto website, Land of Nod and Amazon, but we ended up purchasing the crib through Buy Buy Baby with our 10% off completion discount with our registry.  We waited until we got that coupon in the mail to buy our crib and our Uppa Baby Vista Stroller because neither brands accepted coupons unless it was the completion coupon.  Totally worth it to wait with those two big purchases!   The first crib we ordered was the Babyletto Hudson crib but we ended up returning it because the wood was a totally different color than I thought it was going to be.  My saint of a husband had to put it together, take it apart and then haul it back to Buy Buy Baby.  The only reason I'm alive right now is because I'm carrying his baby…….   ;)  
Finding natural wood shelves and frames to match the crib was quite the challenge.  Everything was darker wood or white or grey.  Eventually, I found some pieces I loved at Land of Nod on their website before they closed all of their stores. (I believe they're launching a small, new section at all Crate and Barrel stores that's designated to "Crate and Barrel Kids", so we won't loose them completely).   I have some more frames that I haven't hung yet and some others throughout the nursery that I am waiting to fill with photos of our new family.  Let's be honest, this kid will be photo'd an obscene amount by his mama…..  
I actually found this "oh the places you will go" world map artwork on etsy really early on and waited to print it until I figured out the rest of the room.  My only regret is not making this bigger.  I adore it and can't wait to teach baby all about the different continents and animals in each one.   I am a geography geek and I grew up learning all about maps and directions and countries from my dad and I can't wait to pass that on to baby!   The " You is Kind. You is Smart.  You is Important." artwork is another favorite thing.  I always loved that line from the movie, "The Help" and love that it's now in my kid's nursery waiting for them to learn it!  :)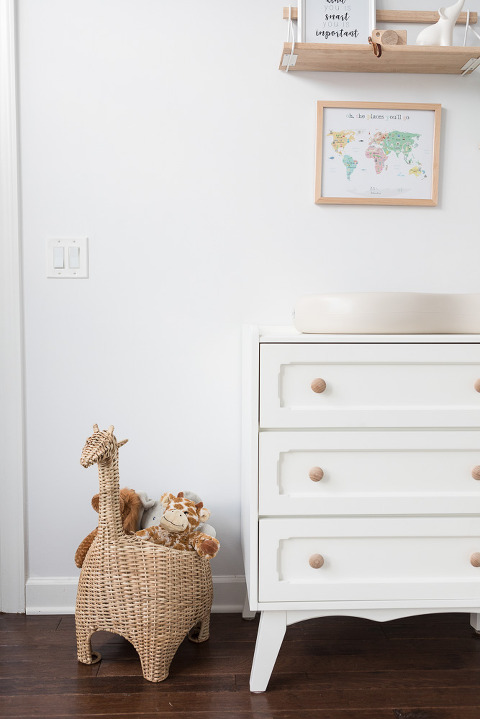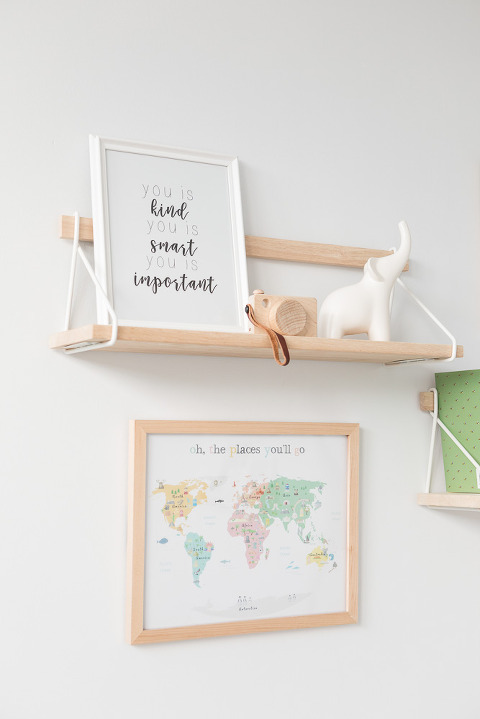 The mama and baby elephant photo was taken by me on our safari in South Africa.  It was the most picture perfect moment when mama guided her baby down the pathway away from our safari jeep.  I was a photographer in heaven and was so excited to use it in our nursery.  This was originally going to be printed huge above our crib but we opted for something a little " out of the box" instead………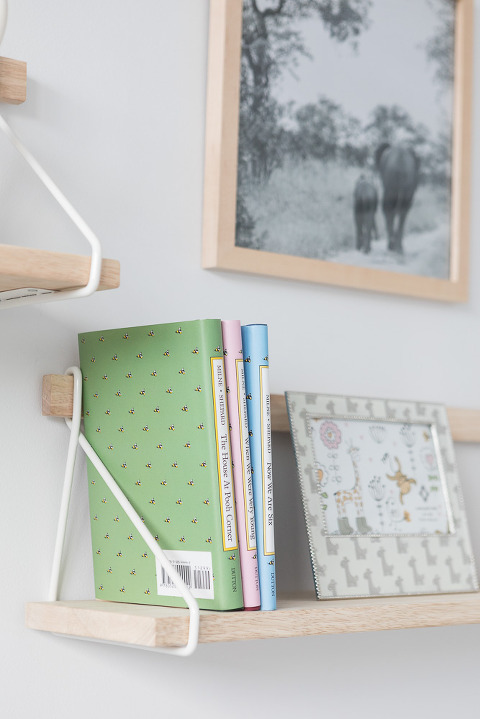 The IKEA bookshelves were another fun Pinterest find.  They are IKEA's $3.99 spice racks for the kitchen.  No joke.  Similar ones for actual books were over $30 a piece at other stores…….so this was another huge save.  I kept them all as bookshelves except for one, which I wanted to flip upside down to make into a little shoe shelf and hanging rack.  We can't keep all of those adorable clothes and shoes cooped up in the closet now can we??!!   ;)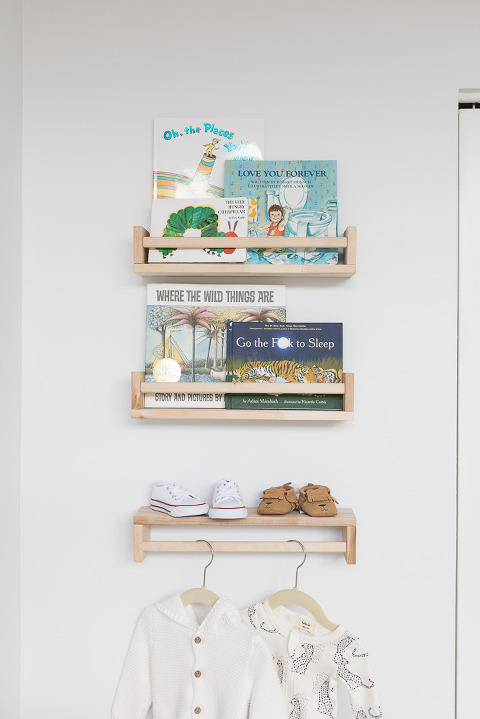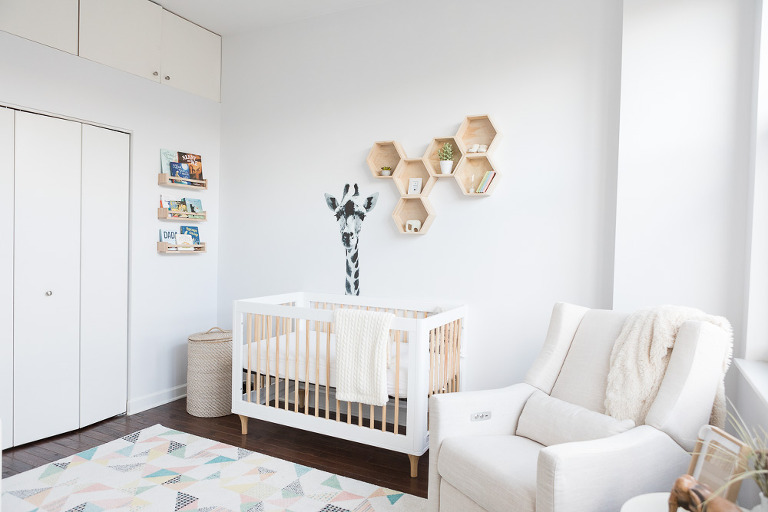 This Giraffe wall decal was our biggest risk.  I knew I wanted a giraffe somewhere but wasn't sure how to get one of my own safari photographs blown up this big because I didnt have one close-up enough.  I had oodles of close ups of lions and leopards but I didn't think a giant lion above my kid's crib was the most serene thing to wake up to everyday……. :)  Lucky for me, my friend and fellow photog Brittany Bekas is a bit safari and travel obsessed like me and just got back from her second safari where she took some amazing close up shots of giraffes!  She graciously offered her photo to me and I had it turned into a sticker wall decal.  It was pretty cheap and although it printed a bit more "contrasty" than the original awesome photo, I'm pretty happy we did this.  
The recliner was a gift from my parents and we absolutely love it.  It's an electric recliner that goes back almost to 180 degrees, swivels, rocks and has a phone charging port for when I run my phone battery dry during all of those feedings. :)  I can see many a nights rocking in this recliner…..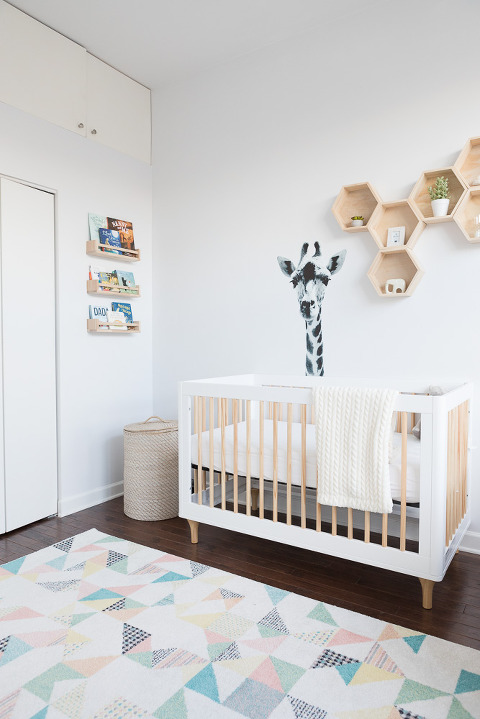 The rug was another hard find.  I originally wanted a simple, off-white fluffy bear skin rug but after compiling the rest of the nursery, I thought we probably needed some color in there.  I fell in love with this rug when I found it on overstock.  It was modern, gender neutral, the perfect size and matched the colors in the world map decor perfectly!   It'll easily grow with the kid into their other rooms or can be used in a play room or new nursery some day.  
These unfinished wood hexagon shelves I found at Target for $6.99 a piece in their art section (um…score!) instead of buying the original ones I found on etsy for $39 a piece.  I still might play around with these a bit (take out the backs or paint the sides…) but for now, they work.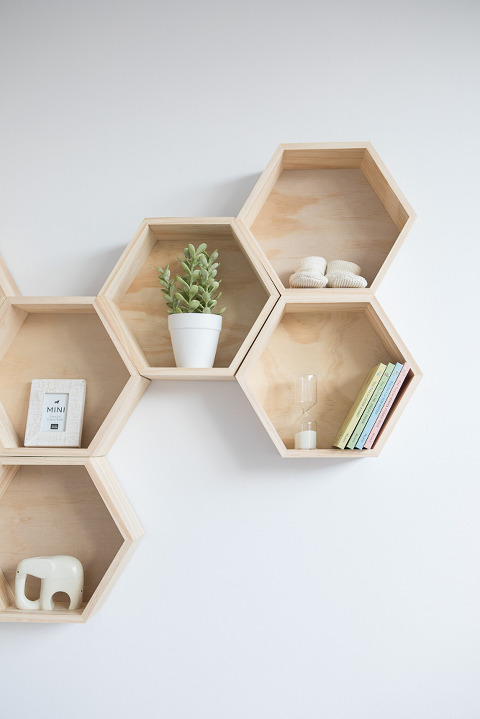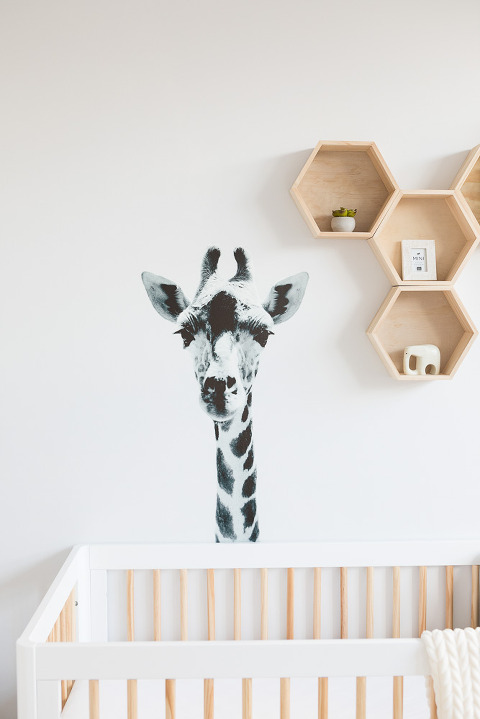 I have some sheer drapes that are going up over the black out blinds but other than that, we're pretty much done!  Now we just need the baby to come to make the room complete!  Any day now……  :-)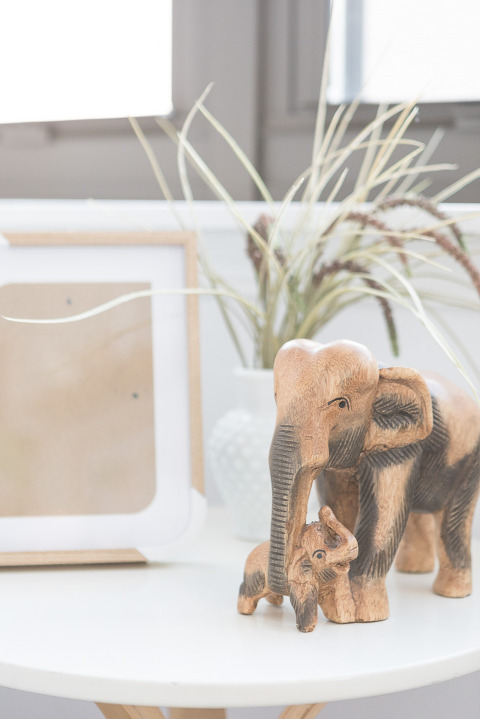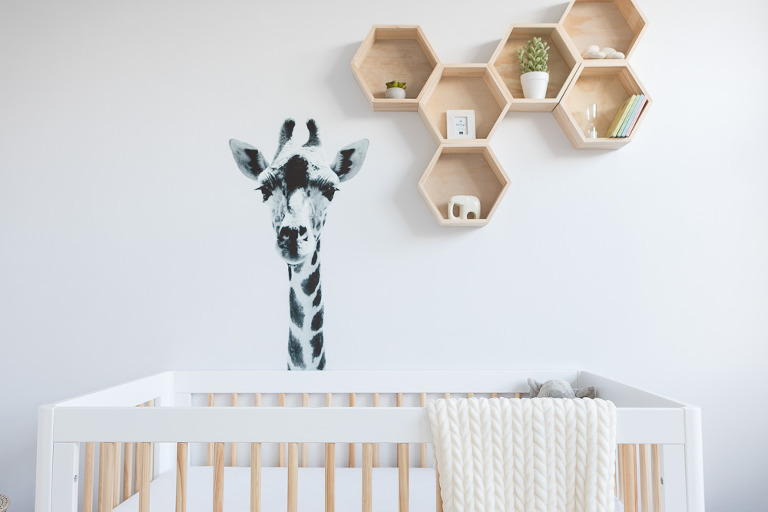 Crib:  Babyletto Lolly in white and Natural 
Dresser:  Land of Nod/Crate and Barrel Kids
Hardware:  Home Depot
Shelves above dresser:  Land of Nod/Crate and Barrel Kids
Elephant and Giraffe on Shelves:  Target
Wooden Camera: Etsy/Little Miss Woodwork
Frames:  Land of Nod/Crate and Barrel Kids
"You is Kind" and World Map Artwork:  Both Etsy
Elephant Print:  Personal Photography from Africa
Giraffe Toy Bin:  Pottery Barn Kids
Diaper Changing Pad:  Keekaroo Peanut Changer
Crib Sheets:  NEST organic fitted crib sheet in Ecru
Giraffe Decal :  Photography by Brittany Bekas and decal by Sweetums Signature
Hexagon shelves:  Target 
Hexagon Shelf Decor:  World Market, Target, HomeGoods
Recliner:  Babyletto Kiwi Electric Glider in White Linen
Nightstand:  Ikea 
Nightstand Elephant:  Woodwork from Chiang Mai Thailand
Rug:  Overstock
Bookshelves:  Ikea 
Hamper:  Pottery Barn Kids
Frames:  Land of Nod/Crate and Barrel Kids